The Art of Living Foundation, with its roots in spirituality, has nurtured a deep respect for our planet in thousands of people around the world. The earth may be made up of rocks, sand and water, but spirituality can help us to perceive our planet as a living vibrant entity, responding to our care and attention.
Inspired by the vision of Gurudev Sri Sri Ravi Shankar and moving together as a team, volunteers from around the world have initiated several environmental projects: Large scale tree plantations through Mission Green Earth, water conservation and protection including cleaning polluted rivers and zero-budget chemical-free farming which support poorer farmers to farm to farm in a way which is both economically and organically sound.
The Art of Living Foundation also recognises that to nurture and ensure future conservation of nature, it is necessary that these values be inculcated in young minds at home and at school. Awareness programes for young people and children (called 'Deepening Roots, Broadening Vision') also form an important and integral part of this long-term programme.
Going Green in Canada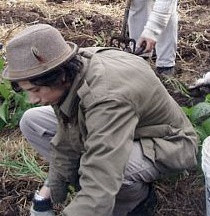 Deepening Roots was created in 2005 by volunteers from The Art of Living to offer youth a unique, experience-based approach to sustainable agriculture and leadership.
Deepening Roots brings together educators in the fields of permaculture, health and wellness, meditation and leadership development to facilitate a three-week summer intensive training program. Read More
Read More