In India, we have always dreamed of the world as one family. Today, that dream seems to be taking shape. Vasudhaiva Kutumbakam. We are all one.
~ Gurudev Sri Sri Ravi Shankar
The Art of Living celebrated 35 years of inception in March 2016 with the World Culture Festival. A magnificent three day festival was held from March 11-13 that celebrated cultural diversity and global unity through cultural performances and messages of inspiration.
WCF Highlights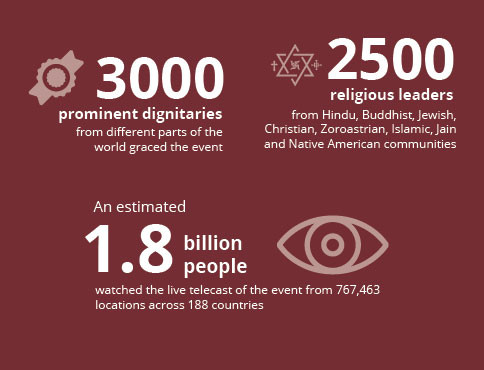 Inspiration
"We are inspired to continue with more enthusiasm and greater speed to realize the dream where life becomes a celebration and the world will become one family. The World Culture Festival is a celebration of achievements and a vision to do better."
~ Gurudev Sri Sri Ravi Shankar
The seeds for The Art of Living were planted 36 years ago in Bengaluru, India by Gurudev Sri Sri Ravi Shankar. Today, the organization is strengthening communities in 155 countries  through self-development and humanitarian projects.
THE ART OF LIVING
Founded in 1981 by Gurudev Sri Sri Ravi Shankar, The Art of Living is an educational and humanitarian movement engaged in stress-management and service initiatives. The organization operates globally in 155 countries and has touched the lives of over 370 million people.