Wisdom
Search results
Emotions come and go, why you have to bother so much. Even if I tell you something, when the emotions come you will forget all about that. It's useless to be preparing for it. You know they just come and they go, just relax. I don't want to give you sugges ...

Sometimes sure you show some aggressiveness, you can act. See if you're playing a part in a movie or in a theatre you can't say I can't do this, I can't do that. If the act demands you to be a villain you have to act like a villain but not be a villain. Do ...

I think so. It is okay you can do some treadmill, some other hard exercise also. I am for exercise; I used to do quite a bit now I don't do as much. ...

Just don't see horror movies, the crime movies. Don't see them; especially pregnant women should keep their mind relaxed and happier, more in state of contentment rather than getting stressed and having the shocks of their life watching horror movies. What ...

Drop the past and move ahead, okay. The world is revolving, life is revolving. It's all changing colors, okay. It goes back and forth, back and forth with all the changing colors so be with the flow and move ahead. Don't sit back and think back all the tim ...

Yes you should do that, that's what I've been telling. ...

Yes, yes, yes, you are close. Keep working, do something to spread the knowledge yes! Bring this joy to more peoples' lives in whatever manner, but keep working. ...

First of all your identity is more than a gay or a straight person. Straight you call it? Straight! (Crowd laughs) You are part of the Divine remember that. You're part of Divine and you are beautiful, very good human being. This identity must be brought ...

It's everything. Take that, take this, and take everything. You know keep the longing burning alive and continue doing your duties, this is necessary. ...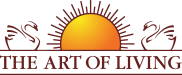 Founded in 1981 by Sri Sri Ravi Shankar,The Art of Living is an educational and humanitarian movement engaged in stress-management and service initiatives.
Read More