Choice
Search results
Often when you are happy you feel life is a dream because you do not believe in the reality of it. When there is misery you feel life as a burden. And we take trivial things very seriously. But one who has really gone through the pleasure realizes that pl ...

Many have a problem of letting go of control. This results in anxiety, restlessness and it sours relationships. Wake up and see, are you really in control? What are you in control of? Perhaps a tiny part of your waking state! Isn't that so? You are not in ...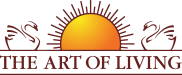 Founded in 1981 by Sri Sri Ravi Shankar,The Art of Living is an educational and humanitarian movement engaged in stress-management and service initiatives.
Read More