Commitment
Search results
A commitment can only be felt when it oversteps convenience. That which is convenient, you do not call commitment. If you just go on your convenience, your commitment falls apart causing more inconvenience! If you keep dropping your commitment because it ...

Question: Why is it easier for some of us to commit to our own welfare rather than that of others? Sri Sri: Because you do not know that whatever you are committed to brings you strength. If you are committed to your family then your family supports you, ...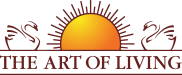 Founded in 1981 by Sri Sri Ravi Shankar,The Art of Living is an educational and humanitarian movement engaged in stress-management and service initiatives.
Read More