Programs
Suchergebnisse
Increased competition, inter-personal relationship problems or miscommunications can cause a lot of unrest in the mind. Apart from this the odd working hours, which lead to unhealthy lifestyle and food habits, take a toll on our body. To find solutions to ...

Kanał Fundacji Art of Living Polska na YouTube! Kanał ten jest platformą przekazywania informacji i wiedzy o Art of Living. Jeżeli ktoś chce dołączyć do naszego zespołu (tłumaczyć filmy, przesyłać sugestie z linkami filmów Art of Living, które chciałby, a ...

To the President of Art of Living,  Tatiana Suprunova Dear Tatiana Suprunova View Letter The administration, faculty and students of Lyceum #12, Khimki express their appreciation for conducting an interesting and much-needed project. It teaches essential ...

For those whom have completed an Art of Living Part 1 Course and/or Yes Plus Course Refine Your Practices Experience Higher Energy Inspiring Dynamic Action Art of Living centers around the world offer weekly drop-in group practice sessions open to all who ...

St. Mary's students pose at the YES! Nepal Youth Adventure Camp St. Mary's students pose at the YES! Nepal Youth Adventure Camp YES! Nepal Youth Adventure Camp participants ponder physics YES! Nepal Youth Adventure Camp participants ponder physi ...

Curso de Meditação Sahaj Samadhi por Sri Sri Ravi Shankar ...

Sri Sri Tango: A new Art of Living workshop for the family Marco Di Giano is travelling worldwide to deliver a new way to experience yoga and meditation. In a new workshop called Sri Sri Tango, the magic of the Argentinean tango is bringing the whole fami ...

By Komal Singh An absolute riot of joy and laughter prevailed as we sailed through a five-day YES+ Course in May, organized for 51 Sumeru Solutions employees at the Bangalore ashram. It was my first YES+ Course and what stuck is the way profound knowledge ...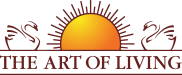 Founded in 1981 by Sri Sri Ravi Shankar,The Art of Living is an educational and humanitarian movement engaged in stress-management and service initiatives.
Mehr