Question & Answers with Sri Sri Ravi Shankar

Q: Gurudev, What is the crux of Life?
Sri Sri Ravi Shankar:
What is the crux of life? At least, first you start exploring within for that adventure! What should Itell you beforehand? The whole life is in search of some juice, some happiness. Where you feel happiness, solaced, be atpeace there, relax there. And you get that joy when you look within. Meditation is such a joy! When the tiredness cracksaway, you get that relaxation, that joy you are looking for.
Q: Gurudev, What is wealth?
Sri Sri Ravi Shankar:
What does wealth mean? Not just money, whatever supports life is wealth. In Scandinavia, people thirst for the sun. When I had gone there in winter, it was dark like it's here now. When I asked someone, 'When will the sun rise?' They said, 'In January. That is wealth for them.
Today there is a need for a spiritual wave in society. Spiritual wave just means where people feel connected to each other When belongingness increases, corruption decreases
Q: Gurudev, How much should one sleep? Is it good to sleep again if you wake up at 4 AM? I would gladly do my program at that time of the day but I can't. How do I make myself do it?

Sri Sri Ravi Shankar:
You know, take good sleep. You don't have to wake up at 4 o'clock and do practice, no. You do it when you're complete with your sleep. Whenever you have complete sleep and you wake up, then you do it, okay? Don't strain yourself. Our rule is what? Not to torture yourself or strain yourself, hmm? Your inner connection can only happen when you are relaxed, not if you're tense.

Q: Gurudev, Can you talk about the greatness of Valmiki ji and that period of time?
Sri Sri Ravi Shankar:
Valmiki ji was one of the contemporaries of Sri Rama. Many scriptures in the world were written much after the physical presence of the Master, but Valmiki wrote Ramayana at the very period when it happened. There was no division of casts in the society at that time. Honesty, human values and belongingness were so strongly rooted then.
Q: Gurudev, What is difference between God, Guru and me?
Sri Sri Ravi Shankar:
Let's talk of the common thread. The same Divine is in me and in thewhole universe. There is no place which is not permeated by the divine. In Sanskrit,
Ishwaro gurur atmeti murti bheda vibhagine,
There is no difference between Guru, Divine and me. What iscommon in all three is what I am!
Q: Gurudev, I have been on the path for so long, but I still get attracted to violent and non sattvic partners. What can I do? The attraction is almost irresistible.
Sri Sri Ravi Shankar:
What can I say? Go for it! It will be beneficial to the nearby doctors and hospitals if you keep breaking parts of your body with violent partners! See, it's about patterns… when you recognize that this is your pattern, wake up and say, "I will not be a victim of this pattern!" You have that strength! You will be given that strength.
Q: Gurudev, Why do so many religions face east when praying? Is it good to face east when meditating?
Sri Sri Ravi Shankar:
Different reasons exist. The sun rises in the east. So, in the morning, you meditate facing east. But in the evening, you face west because the sun sets in the west. Energy flows from where the sun is. So, when you face the sun, you are balanced. For prayer and meditation, you need balance - balance of mind, posture… See, it does not matter which direction you face when you meditate, as long as you are facing a direction and meditating.
Q: Gurudev, Is education all about passing examination and getting good marks. Is it not about something more?
Sri Sri Ravi Shankar:
What do you think?
(The person replies) I think it is because of our parents' attitude that we think so.
Sri Sri Ravi Shankar: Yes, but you should also study. Any way, you have to flow with the system. Though, examination is not the only thing. If you fail also, then never mind. That doesn't mean you should take some stupid steps. That is no good. At the same time, you should attend to your exams. Education is very important.
Q: Gurudev, Why should we deepen our roots if in the next life time we are going to be born in a different religion or culture?
Sri Sri Ravi Shankar:
Thisis for now! Deepening your roots means getting well grounded. That'sit. It is not about any particular religion or culture. Deepen yourroots means - be grounded and stable.
Q: Gurudev, If the core of our existence is full of love, innocence, perfection, how can a person be so mean and kill his or her whole family? It is hard for me to understand.
Sri Sri Ravi Shankar:
You know you should go and talk to the people in the prison who have committed these heinous crimes. You'll find these people are nice people. Why even talk about them, talk about yourself! You know sometimes you've been so nasty. Have you been nasty? Have you been angry? Have you been upset? Afterwards you see – 'Oh, why did I do this?' Do you regret? In the same way these people – they did a crime, they did commit something they were totally unaware of, and then they started realizing. That's why spiritual education is so important, because this education doesn't allow you to commit such heinous crimes! They never had an opportunity to have access to this knowledge, to meditation, to breathing. That is why they did all that.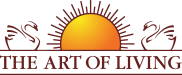 Founded in 1981 by Sri Sri Ravi Shankar,The Art of Living is an educational and humanitarian movement engaged in stress-management and service initiatives.
Mehr