Question & Answers with Sri Sri Ravi Shankar

Q: Gurudev, What is role of service in order to have inner contentment?

Sri Sri Ravi Shankar:
You know, we should have a goal in life. My goal is to bring happiness to more and more people. If we sit and keep thinking of ourselves all the time, we'll be depressed. We should see, 'How can I be of service? How can I be of use to others?' This thought is very useful. Very, very, very useful. Ya?

So, 'Art of Living' provides a platform for everyone to come together and do some service. You know, when United Nations announced, 'Stand up and take action' - they wanted tree planting; 'Art of Living' volunteers have planted 55 million trees around the globe.
We all can jointly do some service activity. Reduce violence, reduce stress, create a sense of belongingness, and spread the positive vibration of love and peace. Shall we all do this together? Is everyone committed to do this? (A resonating yes from the audience.)
Q: Gurudev, The Art of Living Silver Jubilee celebrations were a huge function. When will we have another huge function again?
Sri Sri Ravi Shankar:
Yes we will have one, in another five years.
Q: Gurudev, How does one deal with separation anxiety?

Sri Sri Ravi Shankar:
Ujjayi breath. You are in the ocean of breath.

Q: Gurudev, How to get joy in life?
Sri Sri Ravi Shankar:
Forget about getting joy, it will come to you. You should just relax.
Q: Gurudev, What to do when a loved one is diagnosed with a potentially terminal condition?

Sri Sri Ravi Shankar:
Bless them. Carry on, Sing, dance, meditate. If you think too much about the illness, it pulls down your energy. Medical attention is required, but have faith also. A turnaround can happen at any time. There is divine grace that is present with you. Anytime, anything is possible.

Q: Gurudev, Guruji, they say the recipe for depression is to only think about oneself. But at the start of Mahabharata war, Arjuna was thinking about others, yet he was depressed. Please explain.
Sri Sri Ravi Shankar:
Well, the mantra for depression is - "What about me, what about me". And Arjuna was thinking how he could do the work which he was supposed to do, and what people would think of him. It was again about himself only. It is not just thinking about oneself, but your other different attachments and lack of understanding can also lead to depression. But one sure technique to get depressed is- Just sitting, doing nothing and thinking, 'what about me, what about me, what will happen to me?' You are sure to get depressed this way!
Q: Gurudev, I feel very uncomfortable in the presence of some people even if they are total strangers. Why does this happen?
Sri Sri Ravi Shankar:
Take it as an exercise. Meditate. Go deep into yourself. You will find this discomfort goes away. You give it too much importance. If you realize you are bigger, the vibrations will change. When you change they will also change.
Q: Gurudev, Please talk about karma and karamfal (fruit of action).
Sri Sri Ravi Shankar:
You have asked this question – this is a karma. You are listening to my answer is also Karma. Life is karamfal only.
Q: Gurudev, You told that God can be experienced in a state of effortlessness. What does it mean to be effortless?

Sri Sri Ravi Shankar:
: Being effortless does not mean stop eating, drinking or doing other work. This has a deeper meaning. Keep on doing all your work, and while doing your work, know inside you that you are doing nothing. In the beginning, you sit for some time and experience that you are doing nothing. Then you will start experiencing that even you are doing but there is a field in you which is not doing anything. Ancient sages had beautifully explained this. There are two birds sitting on the same tree. One is eating and the other is only witnessing this. In the above context, it is the free bird which is being discussed, the bird which is effortlessly witnessing. Pay attention to that also. The two birds are friends. They live together. One is always witnessing and other is involved in all the work. Effortlessness does not mean sitting idle. Lord Sri Krishna said in Geeta that you cannot be without doing any action even for a second. Keep on doing your karma and at the same time be the witness of your karma. This is very deep knowledge.After the session a book was released – Understanding Shiva. While launching the book Sri Sri Ravi Shankar told that the book also included a scientific perspective of all pervading Shiva tattva.


Q: Gurudev, I can't think of more questions. Please tell me some question to ask?
Sri Sri Ravi Shankar:
That's good. My job is not to tell you or give you questions but to take away your questions.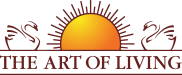 Founded in 1981 by Sri Sri Ravi Shankar,The Art of Living is an educational and humanitarian movement engaged in stress-management and service initiatives.
Read More