Question & Answers with Sri Sri Ravi Shankar

Q: Gurudev, Are you my Guru? But they said Gurus find their devotees!
Sri Sri Ravi Shankar:
: That you have to decide!
Yes, Gurus find their devotees, this is usually said. You know when was this said? In ancient days, when children would go to the Gurukul, the teacher would come and test the aptitude of all the children - this child is good in engineering, this child is good in music, this child will be good for this, for this, for this… Then the teachers would say, 'Okay, you come and you do Veda, you study Ayurveda, you study music'; so teacher used to pick up. That was when parents would bring their children to the Gurukul and then the Guru would pick up which student would study what.
Once you are here in the knowledge, once you are on the path, your heart will tell you," This is the place for me and I have to get here", and that is when you accept someone as your teacher. Not that someone comes to you and says 'I am your teacher, I am your Guru'. If so happens then don't believe that, okay! Nobody can impose that; it should come from within. Your heart tells you that this is genuine, this is right, this is good. So once you accept someone as your Guru or teacher then this anguish disappears to a great extent, and know that you are not alone!
Q: Gurudev, Should yoga become an integrated subject in school, especially iftraining/practicing can help our students to achieve something higher?
Sri Sri Ravi Shankar:
Yes, certainly. Inseveral countries, they have already made yoga compulsory in schools.
Q: Gurudev, As a woman how can I fully liberate myself without being angry in the so called Man's world?
Sri Sri Ravi Shankar:
Lessen your dependency. What do you call independence? First you think you are bound, and then you try to come out of that. You find freedom when you have a say over your emotions and when you are in wisdom.
Nobody is completely independent. Even nations are not completely independent. The word is interdependent. Among nations and communities we are interdependent. We live in an interdependent world. Man depends on Woman and Women have to depend on man.
So it is paradox – independence and interdependence. Try to be independent as much as you can understanding the need for interdependency.
Q: Gurudev, Sometimes we feel disconnected with you how to overcome that?
Sri Sri Ravi Shankar:
Sometimes only na! So you got disconnected and then you feel the connection again, it will happen.
Q: Gurudev, Can you bring more sun here?
Sri Sri Ravi Shankar:
Today there is enough sun. We will take it one day at a time.
Q: Gurudev, What is the visualization of God in ancient India?
Sri Sri Ravi Shankar:
In ancient India, they described God as beauty. A discipleonce asked what God is. The Master replied – Truth, beauty and love. That isGod. Is God sitting in heaven giving a little finger? No, it is only in thepainting. God is truth, beauty and love. It is that field and energy present inthe entire creation. When can you appreciate beauty? And what doesn't allow youto appreciate? When mind is bombarded with worry, anger, hate and tension, youcan't even smile from your heart.
Thoughyou are sitting in a ballet, but you can't appreciate if you are angry. You canonly appreciate when you are in the present moment.
Q: Gurudev, Dear Guruji, it is easy for me to shut my mouth, but it is difficult for me to shut my thoughts. How can I do it? Please help me.
Sri Sri Ravi Shankar:
You don't need to do anything. Everything is done here for you. Hiren is giving all the courses, he will lead you at different times to different types of meditations and processes, and it'll happen. That's why you need to be here. If it's your first Advanced Meditation Course, you may find it a little difficult but when you continue, you will definitely find it very useful.
Q: Gurudev, I have wasted so many years of my life. I want to do something good and to be successful now. My age is about sixty now, is it too late?
Sri Sri Ravi Shankar:
No! Nothing is ever too late, no not at all, don't worry. Don't regret the past. Even now it's not late. Keep smiling; be happy hmm… you are on the right track, right path, and right place. Move on! There are so many things to be done and I need so much help. So many hands I need to do this big mission, right! Bringing the whole world as one family, so we all play a very important role, let's all do it!
Q: Gurudev, Guruji, What is Bhakti (devotion)?
Sri Sri Ravi Shankar:
: Listen to Bhakti Sutras talk, I have spoken in that, yeah!
Q: Gurudev, Can I ask you something? I was also thinking about all that has happened in Pakistan and this was the region which was also most affected by terrorism. Is there any relation how the karma is of the people's action and the nature's response?
Sri Sri Ravi Shankar:
Yeah, at this time it is not wise to say, 'it is because of your bad karma you are suffering'. It is not a wise thing to say, people are suffering from natural calamity. That is why they always categorize three types of calamities affecting people.
Three categories, one is Adi Bhautik means natural calamities, nature's response brings you into misery. And then Adi Daivik - a calamity that is manmade. You can say through one's own wrong doings. And then the third calamity that comes in life Adhyatmik, What is it called in Christianity? Something like the dark age of the soul… what is it called? (Audience - The dark night of the soul). Yeah,that is you have everything but then depression sets in. You have money, all that you could have achieved in society you have achieved but you find there is darkness and you don't know how to go in, how to cut the darkness. Your spirit is longing, missing something but it does not know what. There is type of inner vacuum. That inner vacuum where there is no joy, everything appears completely dead and meaningless.
This is called Taap Athreya. Taap means anguish, three types of anguish. Human life is faced with three types of anguish and how it can be overcome? Through Tapas!
Tapas means endurance, knowledge, wisdom, meditation, yoga, pranayama, all this comes under Tapas, from Tapas the three Taaps can be overcome, okay!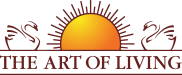 Founded in 1981 by Sri Sri Ravi Shankar,The Art of Living is an educational and humanitarian movement engaged in stress-management and service initiatives.
Read More