Question & Answers with Sri Sri Ravi Shankar

Q: Gurudev, Can I ask you something? I was also thinking about all that has happened in Pakistan and this was the region which was also most affected by terrorism. Is there any relation how the karma is of the people's action and the nature's response?
Sri Sri Ravi Shankar:
Yeah, at this time it is not wise to say, 'it is because of your bad karma you are suffering'. It is not a wise thing to say, people are suffering from natural calamity. That is why they always categorize three types of calamities affecting people.
Three categories, one is Adi Bhautik means natural calamities, nature's response brings you into misery. And then Adi Daivik - a calamity that is manmade. You can say through one's own wrong doings. And then the third calamity that comes in life Adhyatmik, What is it called in Christianity? Something like the dark age of the soul… what is it called? (Audience - The dark night of the soul). Yeah,that is you have everything but then depression sets in. You have money, all that you could have achieved in society you have achieved but you find there is darkness and you don't know how to go in, how to cut the darkness. Your spirit is longing, missing something but it does not know what. There is type of inner vacuum. That inner vacuum where there is no joy, everything appears completely dead and meaningless.
This is called Taap Athreya. Taap means anguish, three types of anguish. Human life is faced with three types of anguish and how it can be overcome? Through Tapas!
Tapas means endurance, knowledge, wisdom, meditation, yoga, pranayama, all this comes under Tapas, from Tapas the three Taaps can be overcome, okay!
Q: Gurudev, You always travel all over the world. How do you see the changes happening in the world?
Sri Sri Ravi Shankar:
You know world means changes. There are some changes for good and there is deterioration as well. If you see , the human values have deteriorated, stress is increasing on one side, pollution and environmental problems, families are breaking up into smaller families, more insecurity in financial sector, crash in the world market has affected people a lot….
At the same time, there are lot of positive developments as well. People have become much more sensitive towards environment, compassion has increased, people are coming out and helping in the times of disaster. So, you should see both happening and what is needed is to aid the positive aspects in the society and to reduce stress – these breathing exercises are necessary to do this and brings a sense of belongingness among people of various communities and age groups.
Q: Gurudev, What are the qualities that the Master wants to see in an ideal devotee?
Sri Sri Ravi Shankar:
None. If I name a quality, you will all try to emulate that quality. Just be your natural self. Be honest. Even if you miss a meditation one day, don't feel guilty about it. Time is carrying you. All the good qualities you aspire for, you have them anyway. You are here and you are doing the right thing.
You can purify your body by following a proper diet. It's good to fast for two-three days in a year. Fast on only juices. But if your system disagrees with it, don't do it. You should listen to your body.
Mind is purified through pranayama and Sudarshan Kriya.
Intellect is purified through knowledge.
Emotions are purified through bhajans.
Actions are purified through seva.
Money is purified through charity.
You should donate at least two to three percent of your income.
Q: Gurudev, If love is not an emotion but your very existence then how come love disappear one day and appear again some other day?
Sri Sri Ravi Shankar:
See, the sun appears to have disappeared but in reality, it is not. It is just hiding or we have turned to another side. That's it!
Q: Gurudev, Something binds the body to the soul. What is this binding factor and what prompts it to part ways after sometime?
Sri Sri Ravi Shankar:
Impressions in the soul binds it to the body. That is what is called Karma.
Q: Gurudev, Your organization has touched more than 30 million people in 25 years, yet you have undergone tremendous growth. How did you achieve and organize that?
Sri Sri Ravi Shankar:
"I never organized anything; I just let it grow organically. I was not a stumbling block. The organization is run by volunteers and we have leaders. I lend my name to the projects, and everyone else does the work!
On a serious note, the product that we offer is very useful to people, and we organize a wide range of activities. Our intuition works and any project we take on is a success. We now operate in 151 countries, with 41 main centers, and many local city centers. We also have 100 fee-paying schools and 108 tuition-free schools for the poorest people".
"The prerequisites for such an organic growth are patience, perseverance and clear intention! This includes clarity of purpose, flexibility to accommodate errors and a long-term vision with good intentions. For any business to grow organically, the leaders must also put a check on any feverishness and not indulge in blame games. This means that they must learn! Learn from the past, have a vision for the future and sustain enthusiasm. They must also have a sense of respect for all, performers and non-performers".
Q: Gurudev, How to prepare for death?
Sri Sri Ravi Shankar:
There is no need to prepare for death. You die for the past, when you let the past die then you are living for the present. Art of living, Art of dying are two sides of the same coin. You should die for all the past things that have happened. Live in the present! If you have to live in the present you have to discard all the past(clapping). Every second, discard the past. If you know the art of dying every second of life then life blossoms in its highest state. Mind dying each moment is death. Anyway there is no end to soul. What you think of as death is only separation of body and mind. Our body changes, mind changes, intellect changes, everything changes. That which doesn't change, the very core inside us – the indestructible, if you can connect to that, that unchanging aspect in you, then that makes life fun! (Applaud!)
Handling corrupt boss
Q: Gurudev, Dear Guruji, generally one of these shaktis are predominant in us: either Brahma shakti, Vishnu shakti or Shiva shakti. How to use them and how to balance them?
Sri Sri Ravi Shankar:
Simply do it! That's it. Brahma shakti: you create but don't just drop it. Vishnu shakti is to see that whatever you start, you continue.
Q: Gurudev, Guruji, environment is one of the most important factors today, what do we do to look after it?
Sri Sri Ravi Shankar:
Yes, caring for the environment is a big part of The Art of Living. Plant trees; use less plastic, if possible, no plastic and use cloth bags. These are all very valid things to know. You have heard about that in the basic course so you all do it already.
Keep the environment clean, if you find people littering the streets you should try to educate them. If you have free time wherever you find any littering, you stand there and call a few people and tell them, "Let's clear this place". Do something like that.
Q: Gurudev, Is peace a state of mind in which no desire or cravingetc. arise at all or they arise and subside very fast. How to attain peacepermanently?
Sri Sri Ravi Shankar:
When you drop this wanting permanency,there will be peace.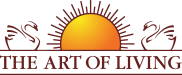 Founded in 1981 by Sri Sri Ravi Shankar,The Art of Living is an educational and humanitarian movement engaged in stress-management and service initiatives.
Read More