Question & Answers with Sri Sri Ravi Shankar

Q: Gurudev, But how to have people to get out from their anger because sometimes it is so difficult to be with them because of their anger?
Sri Sri Ravi Shankar:
Yeah, how to help people come out of anger? Only through WISDOM! Knowledge, wisdom and meditation.
Q: Gurudev, Dear Guruji, what can I do if I see that someone's working too much and her body and emotions become sick of that. She is much older than me, and I love and respect her too much. I become very sad if I see that I can't do anything.
Sri Sri Ravi Shankar:
You know, whether people work or not work, they can get sick. There are lazy people on this planet who get sick. In fact, they fall ill more often. Because their minds are idle. So you don't have to connect these two things. Some people are so health conscious yet they get sick.
So, sickness is not due to one thing. There could be many factors. One of the factors is karma, some impressions of the past.
Second is violation of the laws of nature, and then third is that you catch from the environment. So, there are many factors.
Catch the rest in the coming post…
Q: Gurudev, Guruji, I think I am suffering from chronic boredom problem. I get bored of everything very easily. I get bored of situations, of people, of places. Is there a cure to my problem?
Sri Sri Ravi Shankar:
Boredom! What do you do when you get bored of everything?! Let me think what you can do!
This is because you are thinking only about yourself. When you don't know what pleasure you will get you get bored because this world cannot really give you satisfaction, it can only bore you but if you come from a place of giving and not getting then you won't be bored. You will think what can I do, how can I be of great use. If you think on those lines and dedicate your life for a cause then boredom does not arise but if you are seeking joy in action then you will get bored. Boredom is simply what?!
You are seeking joy in action which you didn't get. You are seeking for some joy in the world which you didn't get and then you got bored. In the beginning it gave you some happiness, a particular object or situation but when you kept repeating it you got bored. So stop seeking joy in activity know that you are joy and then you won't look for joy and get disappointed or get bored, yeah!
Q: Gurudev, Do you follow any religion?
Sri Sri Ravi Shankar:
Yes, I am a born Hindu. I continue to be a Hindu, but theprograms we teach are very secular. People of any religion can practice it.
Q: Gurudev, Is Lord Vishnu's task easier or is your task here on Earth easier?
Sri Sri Ravi Shankar:
Look I do not do any comparison. If my task is easy or difficult, I don't go and discuss it and think about it. Whatever it is, if it is difficult we have to do it, if it is easy we have to do it and it is all happening through the Vishnu shakti only. Vishnu is not somewhere sitting in the Waters, Vishnu is the one which has His existence in each and every inch of this Creation.
Q: Gurudev, Sometimes I feel I have no importance in this huge universe, among millions of people and other species. What is the point in living? Why should I not commit suicide?
Sri Sri Ravi Shankar:
You want to commit suicide? Never! It is the most unintelligent thing to do. Committing suicide is like saying I am feeling so cold and taking off your jacket. It is like saying I am feeling so hot and taking five blankets on you. My dear, problems are there in life but you are bigger than the problem. Remember you will always have enough to survive, you will always be protected. You are cared and loved by this universe; you have no right to take your life. You didn't give birth to yourself; even those who have given birth to you do not have the right to take your life.
How can you even dare think that you could kill yourself, NO! The body belongs to the universe and the universe will take care of your body; your spirit belongs to divinity and divinity will take care of your spirit. Have this confidence and move on. Move through the difficult times. Who doesn't have difficult times tell me? Who didn't have difficult times in the past? Everybody gets some difficult time, the wise people smile and move through it, the foolish ones keep crying, yelling, shouting, being miserable and making others miserable. Never do that! Never ever, ever, ever think; that too having an exposure to this knowledge you should not think about suicide. If such feelings come, do Sudarshan Kriya and come and sit in an advanced course, okay! You will be fine!!
Q: Gurudev, There seems to be many wars and regional violencehappening in the world. What can we do to reduce the violence in the world?
Sri Sri Ravi Shankar:
The root cause of violence is stress and anger. And the only way I know toreduce stress and anger is through meditation, pranyama, Sudarshan Kriya.This is the only way. You can do something with ayurveda, can change the diet…you can do those things, yet they are all secondary.

Q: Gurudev, Ifeel very shy while interacting with people. What is the remedy for the same?
Sri Sri Ravi Shankar:
You know, when you have a sense of belongingness, shynessdisappears.
Q: Gurudev, Guruji, is there any connection with the mood and thetiming of the day? Why do we feel different at different times, like one feelslow in night time.
Sri Sri Ravi Shankar:
Ya, ya! Time and mind are connected.You should know this. Time and mind are synonymous. There are eight substances:Vaisheshika, Kanada…all these people have said, 'Desha, Kala,

Manah.' Desha is space, Kala is time and, Manah - the mind.They are all tatvas, principles. And all these principles are connected. Deshaand kala are connected. Space and time are connected. One day on this planetEarth is already many days on another…in the moon. In moon, it is different.So, if you are on Jupiter, one human year is only one month. In Jupiter if youhave to experience one year, that is 12 years of earthly time.
Jupiter takes 12 years to go around the sun. Similarly ifyou are on the planet Saturn, 30 years is one year!
Similarly, pitras, people who have died, our human one yearis one day for them. So our six months is only one night and six months is oneday. So, for a soul which has departed our whole year is one day. There aredifferent times and different space in different dimensions. So, time and spaceare connected. It's called the time-space curve. The same with the thirddimension that is mind! The mindless, transcendental consciousness is calledMahakala, the Shiva, the fourth state of consciousness.
It's called Mahakala, means great time, and the no-mind. Theno mind is great time.
So, morning from 4.30 to 6.30, just before sunrise, beforedawn, it's called the most creative time.
Brahma muhurta! And then, every two hours it's called alagna; which means, one unit of time. And this unit of time corresponds to thestate of mind. And again this is connected with the moon's position, the sun'sposition. There are so many aspects! Ten different aspects influence the mind.So, not only the time or hour of the day affects the mind, also the quality ofthe days affects the mind. Every two and a half days, the mind changes! Themood of the mind! So, if you are upset, it can continue for two and a half daysat maximum; it doesn't have to be two and a half day. It rises to a peak anddrops. But after two and a half days, you cannot have the same emotion with thesame intensity.
Impossible! It changes. Switches! It is a great, great science,how mind, mood and time are connected.
Jyotish shastra has a lot of insight into this. Youknow the astrologers, usually, all these weekly column astrologers say, 'Oh,good for relationships, good for making money, this and that!' They write thosethings (laughs!). They generalize those things, 'If you are born on this timethen this is good for you and you do this.' Of course, it's too generic andit's just a money-making thing that they do. But it is not hoax; there is aniota of truth in it. The underlying base has truth. The principle that the mindand time are connected is correct.
Mind means moods, thoughts, opinions, ideas, all thesethings that we collect. And, no mind is
meditation
. Dawn and dusk areconsidered very good for mediation. So,whenever you meditate, or whenever the bad time is there, you meditate.
Whenyou meditate you go off the influence of the mind and go into the self.
Theself is Shiva tatva. Shiva tatva means, always benevolent, caring, loving,uplifing.
That consciousness deep within you which is caring, loving,uplifting and benevolent, will nullify the negative influences of the mind andthe time.
So, in India it is a very common belief, whenever there isbad time just say, Om Namah Shivaye, and it's gone. All that bad time isgone. 'Manah', when read from the other side, it becomes Namah.Manah is when consciousness goes outside in the world, and Namah iswhen the consciousness goes inward. Shivaye, towards the Shivaprinciple, the fourth state of consciousness, the subtlest aspect of theexistence, the Shiva tatva! So, Namah, when the mind goes towards the basicsubstratum of creation, then it can change all that into more benevolentexperience.
Q: Gurudev, What is real and what is unreal?
Sri Sri Ravi Shankar:
Things are changing. Everything that is changing is unreal!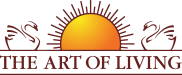 Founded in 1981 by Sri Sri Ravi Shankar,The Art of Living is an educational and humanitarian movement engaged in stress-management and service initiatives.
Read More