AbhangaNaad : The Voice of Devotion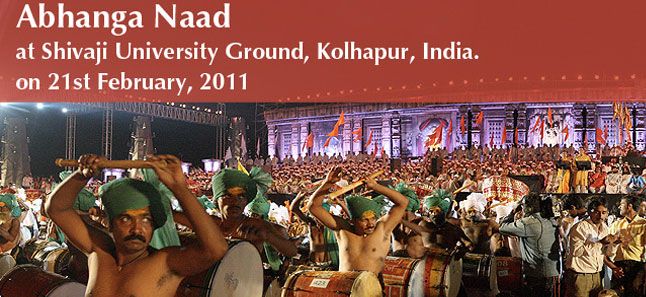 University Ground, Shivaji University, Kolhapur, Maharashtra, India
There are several paths elucidated to attain the Divine. However, in the present time, it is the path of devotion that reigns supreme. Abhangas are compositions steeped in divine love, sung in simple verses, guiding the seeker in his inward journey towards the source.
"Praising is a divine quality. It uplifts the consciousness of the one who is being praised and the one who is praising," says Gurudev.
The Abhangas are sung in praise of Lord Vithoba, and are pure and sincere expressions of love, devotion and gratefulness. At a time when people were lost in rituals and religious ceremonies, these songs uplifted society in to the realm of human values and spirituality. They helped people to transcend the differences of caste, creed, social-status and to recognize the divinity in one another. The Abhangas were composed by the 17th century saints Namdev and Tukaram.
The Art of Living has always worked to spread and strengthen this same message of unity and peace, transcending faiths and belief systems, not only in India, but also across borders. AbhangaNaad is a tribute to this glorious vision of a one- world family. Renowned musician and singer, Shankar Mahadevan, also performed at the event.
Some photos from the event: