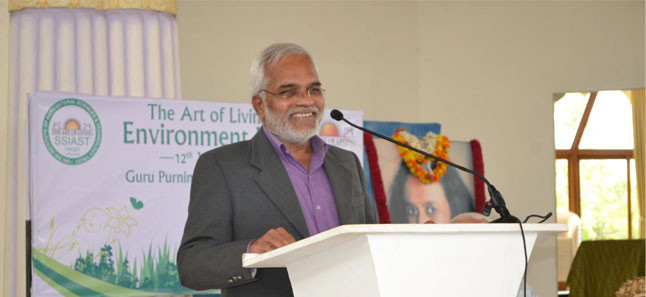 Bangalore
India
The Art of Living designated Guru Purnima, July 12, 2014, as "The Art of Living Environment Day".
A nationwide campaign was launched to green the environment by planting economically and environmentally beneficial tree-species that would reduce erosion of the soil while improving its water-retention capacity.
The Art of Living International Centre at Bangalore began its programme for the
day by clearing a stretch of road in Kanakapura of garbage. As many as 75 tractor loads of garbage had been cleared by the enthusiastic volunteers who included members of the local Panchayat, Youth Leaders, volunteers of Art of Living and its associated educational institutions.
An inaugural function was held at the International Centre to officially launch the greening drive by planting saplings. Dr.Vaman Achariya, Chairman, Karnataka State Pollution Control Board, Bangalore, presided.
Expressing happiness about the initiatives being launched,  Dr. Achariya
said, "Trees are an integral part of our life, and everyone should raise their voice against tree felling and rising emission levels". He also  quoted the UNDP slogan:"Raise your voice and not the sea level."
Reiterating Art of Living's commitment towards environment, Mr. Prakash Athrayil, Administrator at the Centre, shared, "Civic/municipal authorities alone cannot get rid of the heaps of garbage in our cities. Every citizen must contribute to keeping cities clean by practicing individual civic responsibility, creating awareness and participating in community cleanliness campaigns."
After the inaugural ceremony, around 900 high-school students and teachers from the Art of Living's VVMVP school in Kanakapura pa rticipated in a tree-planting initiative.

In addition, as several trees had been felled for road-widening work, the Art of Living's Sri Sri Institute of Agricultural Sciences and Technologies Trust (SSIAST) - a non-profit organization – is overseeing the plantation of saplings to substitute the felled trees. To ensure each sapling that is planted survives and grows into a tree, the SSIAST has also developed a monitoring system for the planted saplings. Here too, the species have been judiciously selected for sustainability.
Besides planting trees, SSIAST aims to train youth on river rejuvenation technologies, which is one of the service-projects of the Art of Living's Volunteer for a Better India (VBI).
The tree-planting drive has been taken up on a pan-India level.
Delhi, Bombay and Pune were some of the other places where volunteers gathered in their hundreds for this project.
As followers took to social media to express their gratitude, the hashtag #ThankYouSriSri trended worldwide in around 60 countries. A large number of Twitter users were also pleasantly surprised with a personalised message from Gurudev.
Later in the evening, thousands joined the Guru Purnima celebrations with Gurudev via a webcast. Many expressed a resolve to commit themselves towards societal change and participate in community welfare.