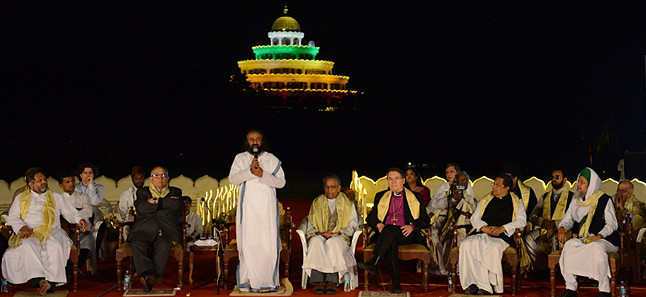 Bangalore, India
"When people live in isolation and in limited communities and their own compounds, it is necessary for people to connect with each other. Sneh Milan is a program where people from different faiths and communities come together and celebrate each others' festivals with the spirit of joy and togetherness, said The Art of Living founder, Gurudev Sri Sri Ravi Shankar, at "Sneh Milan", an inter-faith harmony meet held on 18th December, 2014, at the organization's International Centre at Bengaluru.
The event brought together communities and well-known spiritual leaders to convey the message that we are all working unitedly for the betterment of humanity. Noted religious leaders and clerics from the Muslim and Christian faiths met to take forward the goodwill and the ideas generated at the earlier, February 2014 event, Sneh Milan, at the same venue.
Sneh Milan 2014 played host to dignitaries from countries such as Slovenia, Lithuania, Jordan, Norway and Hungary, among others. 
Among them were, Mr.Saleem Hazarvi - President, International Sufi Center; Mr. Hakim - Head of Shiite Masjids;
Mr.Anwar Sharif – Head, Jama Masjid Sunnis; Rev. Dr. Cherian Thomas, Director, Ecumenical Christian Centre;
Archbishop Maria Callist Soosa Pakiam, Trivandrum;
Dr. Abdul Salam Majali - Former Prime Minister of Jordan and  Chairman of the Islamic World Academy of Sciences;
MEP Alojz Peterle -  Former Prime Minister of Slovenia, current Member of European Parliament, European Union;
MEP Vyautis Landsbergis - Former Prime Minister of Lithuania/Current Member of European Parliament, European Union;
Prof. Ruud Lubbers - Former Prime Minister of the Netherlands for 12 years;
Prof. Gunnar Stalsett, Former Bishop of Oslo;
Arch Bishop Jacob Mar Gregorius, Cochin Diocese;
Mr. Luis Moreno Ocampo, Former Chief Prosecutor of the International Criminal Court.
Mr. Hakim, Head, Shiite Masjids, said," People are either your brothers in faith or your brothers in humanity. This shows the emphasis Islam places on unity, oneness, love and peace."
Mr Anwar Sharif, Chairman, Jama Masjid Sunnis said "Events like  Sneh milan are relevant not only for the present situation in the world, but also for years to come, underlining the message of friendship among all communities"
The audience participated in the evening of music, with the lively and celebratory atmosphere adding to their enthusiastic rendition.
Yaqoob, a participant, shared that he had never taken part  in such an event before. "Love alone can bring light into everyone's minds and hearts. It is important to spread this love to every corner of the world," he shared.
The evening's celebrations came to a finale with a dinner that brought all the participants together on a gustatory note.
For more than 30 years now, The Art of Living has worked towards Gurudev Sri Sri Ravi Shankar's vision of spreading peace and unity among people around the world. The first chapter of Sneh Milan (held in February 2014) witnessed guests from Iraq, Pakistan, Israel, Oman, Afghanistan and the UAE who spoke out in support of a peaceful and harmonious global society. Those present had requested Sri Sri to facilitate such inter-faith events more frequently.