A celebrated Indian spiritual leader has revealed that he reached out to Isis in an effort to try and bring an end to its campaign of violence and killing.
Gurudev Sri Sri Ravi Shankar, who heads the Art of Living (AOL) Foundation, said he believed that dialogue alone with the Islamists would not succeed while the fighters believed "no-one else has a right to exist". He said he hoped their attitude would change if they were brought to justice.
In an interview with The Independent ahead of a recent record-breaking gathering of people outside of Delhi, the 59-year-old leader said his aim was to unite all cultures, religions and ideologies.
The spiritual leader was joined on stage by India's prime minister Narendra Modi (AP)
Asked how his peace-promoting philosophy could work to tackle such groups as Isis, he said: "Isis is very peculiar. I stretched my hand out to to have a dialogue, but when these people think no-one else has a right to exist, talks alone will not work."
He added: "But once they are in prison maybe then we will be able to change their minds."
The AOL, which operates in more than 150 countries, uses meditation and yoga to reduce stress and promote peaceful thinking. Its volunteers have worked in the fields of health, education, sustainable development and conflict resolution.
Recently, the foundation held an event on the edge of the Indian capital attended by an estimated around 3.5m people, a gathering believed to be the largest of its kind.
While Indian Prime Minister Narendra Modi joined the stage with Mr Shankar during the World Culture Festival 2016, the movement has also been fined for allegedly damaging the ecology of the fragile Yamuna River flood plain The foundation has denied the claim and is appealing the fine.
Mr Shankar, who was born in the south Indian state of Tamil Nadu, said his aim was to bring people of all faiths and nationalities together. In the past, he has received death threats from groups such as the Taliban and Isis.
Asked about the intention of the Delhi gathering, he said it was "to give the world a message that we are one family". He added: "We are different in our religions in our customs in our culture. We need to give the world this message that we are one world family."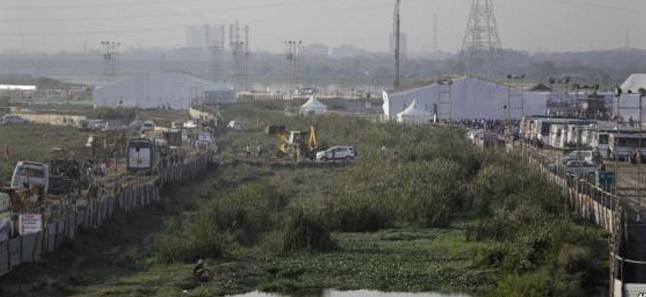 Mr Shankar's organisation denied claims that its event had damaged the Yamuna River (AP)
Asked for his opinion about India's Hindu caste system, a system that particularly in rural areas determine how a person lives, works, marries and dies, he said: "Actually politicians want want the caste system the way it is. But people from any caste can rise to any level. its only been by the profession, but not by birth. people form any cast can raise to any level."
The AOL has issued a statement denying that it damaged the Yamuna, considered to be the second most sacred river in India.
"The Art of Living has a huge regard for the environment. We have never violated nor do we have any intention to violate any laws of the country."
It added: "The AOL has been tirelessly working since 35 years now for environmental good which specifically includes work done towards restoration of dying rivers in the country."
Courtesy: The Independent