To people who know me well, I am a bit of a spirituality nerd. I am the first to discuss our individual capacity to manifest greatness, the universe's sometimes unsettling ability to bring us exactly what we need when we need it, and the power of meditation in making our daily living more manageable and every experience more profound.
Early on, some people in my life didn't quite understand this part of me. But as I became stronger and more grounded through my practice, some have sought me out for advice on how to begin their own practice, develop self-belief, and learn to meditate.
I vividly remember the first time I meditated in front of my father.
I was chanting 'Om' three times as I settled in for my practice, and he mimicked the sound loudly and started laughing hysterically. I couldn't help myself and joined in. It was new to him and so he joked and questioned my practice. I laughed with him, and explained to him the benefits meditation and yoga brought to my life. About two years later, he told me he was interested in trying it out after seeing its impact on my life... I'll be teaching him a yoga class the next time I go home.
So, how exactly did I come onto the path? Well, it was actually completely unintentional.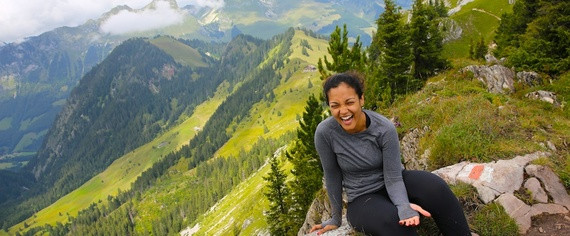 In August 2010, I was attending week three of a youth conference and found myself deep in meditation, sobbing as if I had just emerged from the womb. Here I was, in the middle of Berlin deep in meditation, with the photo of an older Indian man with long hair and in white robes at the front of the room, feeling at my very core that my life was about to change dramatically.
The man in the photo was His Holiness Gurudev Sri Sri Ravi Shankar. His teachings on the importance of meditation and living daily with purity in our hearts, clarity in our minds, and sincerity in our actions, that have transformed the lives of millions around the world, including mine.
My Lowest Point
The year before, we had a tragic loss in our family that had shaken our lives dramatically. Suddenly, there was a void in my life that I was desperately seeking to fill. I started having anxiety attacks, lost a significant amount of hair, slept very little, and overworked myself to the point of exhaustion.
That week in Berlin led me to my moment of catharsis -- my first true release since the loss. The release came when I created the space in my heart and in my mind to allow the depth of my pain and sorrow to surface. I had to turn off the noise I had so willingly filled my life with in order to truly heal.
That was my first step back to recovery and reconciliation, and each day since has helped me continue along that path, and on my own path to daily happiness.
My Life Today
Today, I am living the life I've always dreamed of. I feel fearless and incredibly powerful, while simultaneously feeling insignificant in our vast universe and in awe of the wonder that is life. I am able to stay present and feel real gratitude even for the days that leave me on my knees, crying.
I am not perfect in my practice, and still struggle to sleep enough, to put my wellbeing first, and to take my time to meditate and move each day. Yet, I have come so incredibly far. I no longer limit myself. I truly believe I am capable of anything I give my hard work and heart to. And I now have a meditative practice to sustain me especially when I feel overwhelmed.
Why Share This Story? Why Now?
Earlier this week, I was blessed to sit down with my Guru, my teacher, my guide, His Holiness Gurudev Sri Sri Ravi Shankar in anticipation of his visits to Montreal, Quebec City, and Ottawa later this week (October 16-19).
Gurudev has spoken to millions around the world about the importance of incorporating meditation into our daily lives to help manage stress and increase our personal happiness. His programs are delivered in over 150 different countries, from conflict zones, to the World Bank in Geneva.
On following his own purpose, Gurudev had this to say, "I'm not doing this [work] to gain something, I want to share what I have been gifted or what I have learned in my life... What I am sharing with people, or teaching, has helped millions [transform their lives] with more joy and happiness. That's what makes me go more, and put my 100%."
And so, I feel compelled to continue to give my own 100 per cent to all the work that I do and will continue to do, whether it's in politics or business, within my global community or here, at home. Because wherever I am, is exactly where I am meant to help.