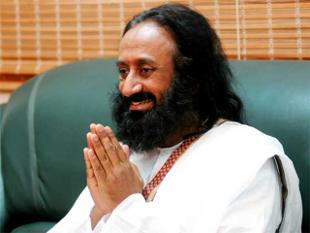 JOHANNESBURG: People in 34 African cities and venues in 28 other countries across the globe joined the Art of Living Foundation leader Gurudev Sri Sri Ravi Shankar through webcast as he led a prayer for peace in the African continent. 
The annual 'I Meditate Africa' campaign of the foundation, now in its fourth year, has grown exponentially from just 10,000 at its inception, the NGO said. 
This year more than 7,50,000 people participated in the campaign, it said, adding the campaign aims to promote peace across the continent, encouraging the use of meditation as part of mainstream peace building. 
"At a time when headlines across the continent are dominated by racism, violence, crime, corruption, misunderstanding and lack of human values; a focus on unity, harmony and peace building on a deeper level is the need of the hour on the continent," said Art of Living senior faculty member Vani Pavadai, who was one of the initiators of the idea.
May 25 is celebrated across the continent and in the Africa Diaspora as Africa Day, commemorating the establishment on May 25, 1963 of the founding of the Organisation of African Unity (OAU). 
In one of the most unique elements of the event yesterday, Luzira prison in Uganda saw 250 inmates join the spiritual leader via the live link up for the peace campaign. 
Courtesy: The Economic Times