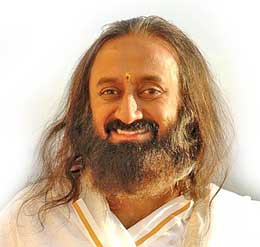 IMPHAL, April 19 - Spiritual leader, humanitarian and founder of The Art of Living and Sri Sri University, Gurudev Sri Sri Ravi Shankar today said that Manipur could be the Switzerland of Asia.
"The State would be a hub for all tourists, but tourists hardly come here because we lack peace," said the spiritual leader. "First restore peace so that the tourist can come and prosperity will come automatically," he added.
Stating that youths of Manipur are very talented and spiritual, he added they are also very skillful. But there is lack of skill development centres to create more opportunities.
The founder of The Art of Living, who was speaking to media-persons at the end of his three-day maiden visit to the State, said that his dream for Manipur is prosperity with cent percent literacy, zero unemployment and clean and green Manipur.
Regarding the insurgency movement in the region, the visiting spiritual leader expressed the need to have a dialogue to bring an understanding. "We can achieve a lot if we sit together," he added. "The youths are most needed in today's world as they show their willingness to sacrifice. We need some committed leaders who can bring the State in a higher level to make the population happy."
He said the present thinking is that we're all interdependent. The European Union is an example. He added it will be a Catch 22 situation unless we sit for dialogue. There is also a trust deficiency.
He said India imports agarvati sticks (made of bamboo) from Vietnam and China despite having huge bamboo potential in Manipur. He also announced that he will personally request the Vice Chancellor of Sri Sri University in Odisha to reserve at least 20 seats for Manipuri students for MBA or BBA courses annually.
Expressing unhappiness over the present status of the surrendered militants in the State, he said that he would like to help them by doing whatever he can. During his visit to the State, he also interacted with the civil society leaders, besides attending music and meditation sessions with Chief Minister O Ibobi and visiting Takhel village for establishing a centre.
Courtesy: The Assam Tribune