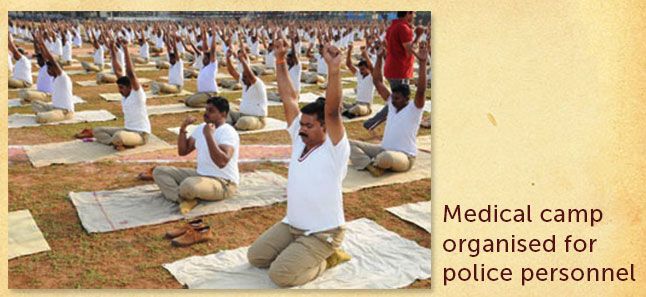 Art of Living conducts sessions for policemen at Parade Grounds 
Nellore: District police organised a massive medical camp and Art of Living sessions for the police personnel including officers of Armed Reserve wing at Police Parade Grounds on Wednesday giving respite from routine hectic activity. Sowmya Gajarao inaugurated the medical camp which was organised with the support of Simhapuri Hospitals.
She said there is a need for regular medical checkup for police personnel since they experience stress due to heavy workload. Sowmya said several persons are suffering with various ailments due to work pressure by the time they attain the age of 30. She stated regular workouts and stress-free procedures have to be made part of their life for keeping themselves fit. 
Additional SP R Gangadhar, Additional SP (Armed Reserve) Suribabu, and others were present. Kasturi Gangadhar formally inaugurated the Art of Living session for the police personnel in the grounds on Wednesday. The sessions would continue till February 1. Staff and doctors of Simhapuri Hospitals and police officials were present.
Courtsey : The Hans India