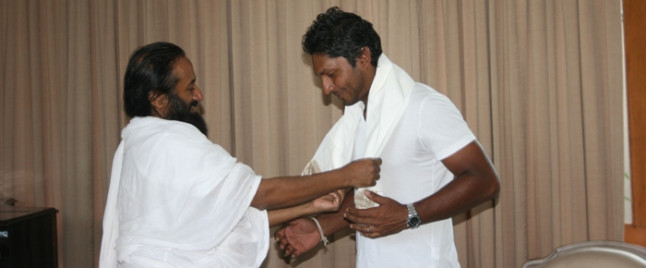 Sri Lankan cricket team captain Kumar Sangakkara thanked Gurudev Sri Sri Ravi Shankar and The Art of Living for helping the Sri Lankan cricket team to come out of trauma after the Lahore attack. Kumar Sangakara called on Gurudev in Colombo on January 23. Gurudev was on a three-visit to Sri Lanka, from January 21-23.
In 2009, immediately after the Lahore attack , the team had undergone breathing sessions and meditation techniques of the Art of Living in Colombo.
On completing the course then, Kumar Sangakkara had said that he had felt relaxed and calm after two sessions of the Sudarshan Kriya. It was "a really pleasant experience", the sports ministry had quoted him.  
"The Sri Lankan cricketers have now found a new direction to be relaxed, calm and still be dynamic and alert," the ministry said.
"Relaxation and recovery is an integral part of a sportsperson's lifestyle, it is techniques like Sudarshan Kriya breathing technique that gives them the energy to bounce back," he said. The eight-hour workshop was conducted by Swami Sadyojatha, International Director, The Art of Living.