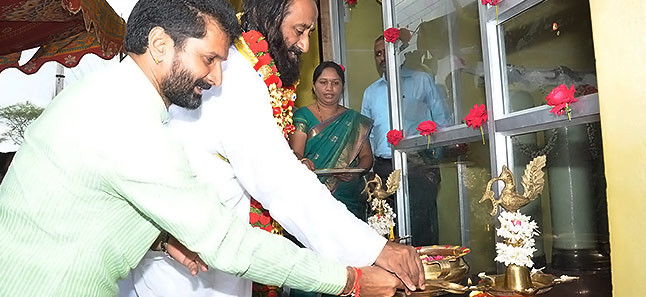 Afghanistan
Chikmagalur, Oct 1: Art of Living Founder and Spiritual Leader Gurudev Sri Sri Ravi Shankar today inaugurated a 'Smart Village' project in Sadarahalli village, Chikmagalur district.
Speaking on the qualities of an ideal village, Gurudev said, "A village should be free of casteism and alcohol while maintaining cleanliness in its  surroundings.Villagers are moving to cities for economic reasons. We should make our villages smarter and bring back our people. Everybody should work for our villages."
The 'Smart Village' aims to have a yoga centre, ayurvedic research centre, digital library, food processing centre, permaculture centre, farmer training center, organic farming facilities herbal garden and a 'Goshala' for native cows.
Chikkamagalore MLA, Mr. C.T Ravi, Ms. Gayatri Shantegowda MLC, Chikamagalur, Zilla Panchayat President Ms. Kavita Belliprakash, District Commisioner Mr. Shadakshara Swamy were also present.
A second Reverse Osmosis (RO) water purification plant has been set up which will provide pure drinking water to around 10,000 people in Lakya Hobli here. In May 2014, one such plant had already been set up. 
"Farmers have been facing problems as the rivers are dried up due to lack of rainfall. We are working on methods that will supply water to the villagers with the same amount of rainfall," said Gurudev Sri Sri Ravi Shankar referring to the river rejuvenation projects.
Gurudev visited the 'Vedavathi' Phase II project centre in Chikmagalur. The Art of Living volunteers along with the panchayat and villagers have helped bring up the ground water level from 600 ft to 50 ft over a 377 sq. km (spread across 49 villages) area during the Vedavathi Phase 1. The Phase 2 of the project is spread over 5000 sq km covering 1097 villages. This project which aims at reviving river Vedavathi, targets 100 days of employment to around 60,000 people who are below poverty line.
The Art of Living, which is better known for spreading happiness across the globe, has embarked on a unique rejuvenation programme to instill life into the "dying" rivers across Karnataka and Maharashtra. 
In Karnataka, river rejuvenation projects are ongoing for Vedavathi Kumudvathi and Palar Rivers.
In Maharashtra, the organisation's Jal Jagruti Abhiyan has worked in 11 districts of the state; addressing water issues in a concerted and effective way. The campaign, which is aimed at finding ways to overcome the severe drought situation in Maharashtra, has been working on eleven river projects across the state.