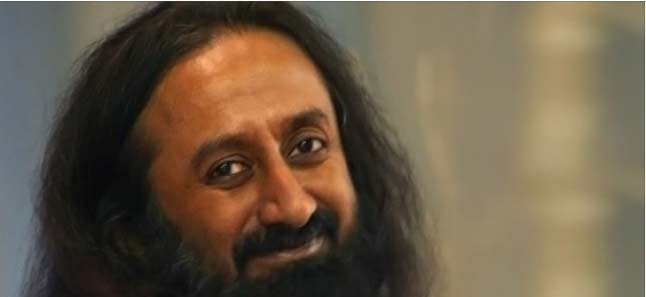 Spiritual leader, Gurudev Shri Shri Ravi Shankar said he is ready to talk with insurgent and underground groups of Manipur to bring peace and prosperity in the State. He also said that he would like to initiate the dialogue as an individual person but not as an instrument of the government.
The statement was made at Hotel Imphal at a press conference where he talked on his attempts to bring development and prosperity through peace. Ravi Shankar stated that there are 50 different insurgent groups representing different ethnic groups of the State. He also added that the paradigm has shifted from independence to interdependence for mutual development as it is evident in European countries adding that prosperity can only be brought where there is interdependence among the people and peace and prosperity to prevail in the State, there should be equal opportunities for everyone. The youths should have their own say in different platforms including regional or national.
The guru added that lack of good infrastructure and communication could be one of the many reasons of indifferent attitude towards different communities which leads to mistrust. Lack of employment and coordinated communication is also another reason for the State to have so many insurgent groups. The youth of Manipur are vibrant and energetic with many talents in different fields and it needs to be channelized in the right direction for the peace and prosperity to return.
He appealed to the youth of Manipur who are striving for a cause of the people to channelize their leadership and willingness to sacrifice in the right way as such committed leaders are what the nation needs right now.
Other steps which can develop and bring welfare to the people of Manipur are to create opportunity for the educated youths by providing skill development programmes and centres across the State. He stated that the 20-50 seats for Manipuri students will be reserved in MBA, BBA, Architecture and other courses in Odisha University.
Ravi also added that steps to upgrade the existing schools run by the Art of Living will be taken up. Ways to improve the living conditions of the surrendered insurgent groups will also be taken up, he added. Herbal collection centres will be set up in the State currently employing seven youths and the centre will employ more than 70 youths in due course of time, he said. Happiness Centre will be instituted for a stress free Manipuri society.Like Sikkim, Manipur can also be declared as an organic State and provide employment opportunity to the unemployed youth, he added.
Courtsey: Northeast Today