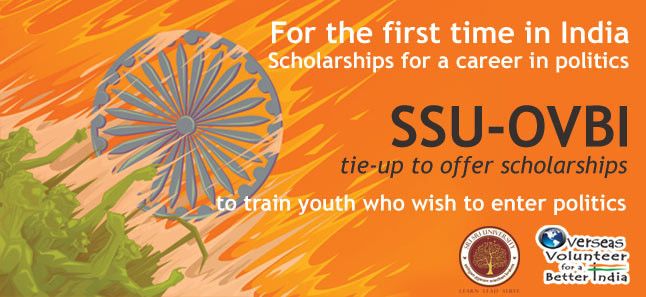 Afghanistan
Cuttack, Orissa: Sri Sri University, in collaboration with the Overseas Volunteer for a Better India (OVBI) and Dr. Ritu Mathur, has announced 12 scholarships, including the Rajendra Laxmi Mathur Memorial Award for Education in Governance and Policy, a full scholarship for the brightest young political aspirant in India. The scholarships will facilitate students to pursue a Master's program (MA) in Good Governance and Public Policy to groom ethical, effective, and empowered leaders in politics.
This is a pioneering initiative in India, with the first-ever global partnership to train young minds in politics and political leadership. The Sri Sri University Political Governance Scholarship is aimed at creating youth capital for national political development.
Applications are invited from students who are deeply interested in political reforms, political leadership, and political governance.
During the two-year program, students will receive rigorous theoretical and practical training in political affairs, party and election management, political governance, and public policymaking. The program will thoroughly groom young minds and transform the young students into leaders by facilitating intensive mentoring by Members of Legislative Assemblies and Members of Parliament.
The cornerstone of the program will be ethical and good governance through politics. Graduating students will have several career opportunities open to them. They will be able to work with regional and national political parties, participate and contest in elections, work as consultants for political leaders, or become policy researchers and analysts.
Envisioned by Gurudev Sri Sri Ravi Shankar, Sri Sri University offers a curriculum that enriches both domain expertise and life skills. The Art of Living program is an integral part of the curriculum at the University. The program equips the students with tools and techniques to handle stress as well as understand and handle their minds, without which any education is incomplete. Thus the University offers an education that is a harmonious blend of innovation from the West and spiritual values and wisdom from the East.
For more details, visit www.srisriuniversity.edu.in