World Peace Meditation, Sep 21st, 2014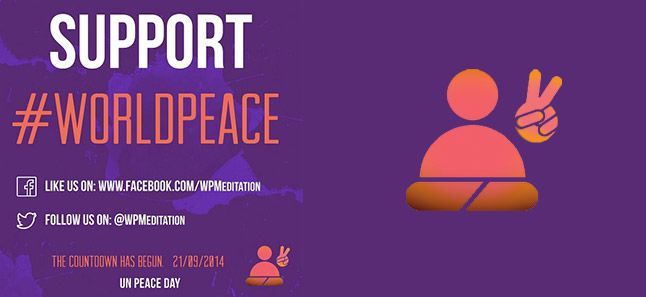 "Meditation is that technique that puts us in touch with ourselves. Meditation is that inward journey to find peace." - Gurudev
You are invited to join us in a very special worldwide event for peace on 21st September - the United Nations World Peace Day. Being the centenary year of World War I, this event is aimed to bring people across the globe together and promote peace through the medium of World Peace Meditation, an innovative mobile app for iOS and Android devices.
A joint initiative of The International Association of Human Values and The Art of Living, the 21st September event is a simultaneous group meditation downloaded to your smartphone, which can be joined wherever you are and can make a 20 minute space in your schedule.
The World Peace Meditation app also features a unique 40 day structured program that gives daily quotes on peace and an action to perform. It is designed to provide an accessible and beneficial route to inner and outer peace right from the moment you download the app.
You can further explore the World Peace Meditation app and its features.
You can support the World Peace Meditation campaign by becoming a World Peace Ambassador  and spreading the word about it. You can also follow the campaign on Facebook and Twitter to keep yourself updated.
You can join and support World Peace on Sep 21st at the following times:
Los Angeles - 7am
Mexico - 9am
Toronto - 10am
Sao Paulo & Buenos Aires - 11am
London - 3pm
Paris & Johannesburg - 4pm
Istanbul - 5pm
Moscow & Muscat - 6pm
Delhi & Bangalore - 7:30pm
Hong Kong & Shanghai - 10pm
Tokyo & Melbourne - 12am