Guru
Search results
Is Guru responsible for your enlightenment? If yes and you don't get awakened, then Guru is to be blamed. And if you get freedom then also the Guru is to be blamed because he has been partial to you. If Guru could set you free, he could have done it ...

What to do if your commitment is boring? Commitment has value when things are not so charming. When things are interesting you do not need commitment at all. You never say you are committed to doing something that is very interesting or charming. Learning ...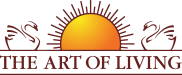 Founded in 1981 by Sri Sri Ravi Shankar,The Art of Living is an educational and humanitarian movement engaged in stress-management and service initiatives.
Read More