Question & Answers with Sri Sri Ravi Shankar

Q: Gurudev, Should I listen to my wife or Guru?
Sri Sri Ravi Shankar:
This is a trick question but I am not going to get caught!(Laughs) If your wife says something, you will say, 'Let me listen to my Guru' and if your Guru says something, you will say, 'What to do, my wife does not agree!' Finally you will do only what you want! This has been the case with man always! So I say, "Choice is yours, blessings mine!'
Q: Gurudev, What advice would you give to a skeptical non-believer?
Sri Sri Ravi Shankar:
A very good beginning point. See that you don't become cynical and frustrated. Skepticism is perfectly alright, but not cynicism. That drains your energy. One can be skeptical to begin one's journey and I would very much appreciate and welcome that. Because you would have gone through skepticism, the faith will be strongly built.
Q: Gurudev, When mind becomes imbalanced will meditation help?
Sri Sri Ravi Shankar:
It is just a matter of time. Some moments you feel shraddha, bhakti etc. have just gone. Once that time is gone, it will come back. Even when mind feels restless, just sit in Satsang. Do more pranayama and see the difference.
Q: Gurudev, May we sit down in meditation after Sudarshan Kriya or is it better to lie down only?

Sri Sri Ravi Shankar:
Ya, you can sit in meditation, no problem.

Q: Gurudev, What is Swara Yoga, could you please articulate on that?
Sri Sri Ravi Shankar:
First do alternative nostril prayanama and then go more deep into pranayama then you will see how the breath in the nostrils change throughout the day.
Q: Gurudev, What is the difference between the mind and the soul?
Sri Sri Ravi Shankar:
Mind is thoughts and soul is in which everything happens.
Q: Gurudev, Guruji what is Shanti(peace)?
Sri Sri Ravi Shankar:
We must make you sit in a closed small room and play loudspeaker 24 hrs. And not some good music, some heavy music. Then after 24 hrs, when we switch it off you will come to know what is Shanti. (Laughter!!!)
Q: Gurudev, Why should people meditate in our modern society?
Sri Sri Ravi Shankar:
If you look at the benefits that meditation brings in our life, you will find that it is all the more relevant. In ancient times, meditation was used as a way for finding the Self, for enlightenment. Meditation was a way to overcome misery and problems. It's the way to develop one's abilities.
If you want, keep aside enlightenment. Today'sstress and tension in society calls for
meditation
. If you take more responsibility, more meditation is required. Greater responsibilities and ambitions you have, greater is the need for you to meditate. If you have nothing to do, you may not need meditation as much.
The busier you are, the lesser time you have, the more desires and ambitions you have - all the more is the need to meditate. Because
meditation
not only relieves you of stress and strain, it also enhances your abilities,strengthens your nervous system and mind. Not only does it help eliminate stress and tensions, releasing toxins from the body and soothing the mind, it also makes you more capable, enhances you in every way. What else do you want?
I would say if you want to be happy and healthy, you've got to meditate.
Q: Gurudev, How do I control my anger? I get angry over very, very small things.
Sri Sri Ravi Shankar:
If you have to get angry, get angry at bigger things, not the small usual mundane stuff. Get angry at corruption in the system and injustice happening around you. Give a bigger dimension to your anger and see all the small things become simply insignificant. I want you to go and talk to every youth in this country and in the world. Talk to them. Tell them to take action against corruption. If the head of the government is shielding corrupt people, what can you do? People have to wake up. That's what we all have to do. Everyone should speak out against corruption.
Q: Gurudev, Can you please talk about greed?
Sri Sri Ravi Shankar:
See, there is greed inside us that we don't recognize. One is when we want to accumulate so many things in life and the second greed is for experiences; oh I want to experience this and that, so many spiritual experiences. This greed is okay to a little extent, little bit but if it becomes too much then what happens, it makes you so unstable, makes you run around and not go deep enough. A little bit of greed to do seva is okay but too much greed to do seva, is no good! Do you understand what I am saying? So a little bit greed for knowledge is okay, but when you want to know more, you want to learn, you want to quickly attain the highest, that propels you but if it is too much then you know you are spoiling it, in the sense you are in too much of a hurry, do you see what I am saying?

What happens yesterday while cooking rice? What happened when you were in too much hurry? Rice remained uncooked. So it has to be put again and similarly, we should act dynamically, quickly, but not too much! That's a little, little at a time. So you have to hurry to get to the railway station but once you got into the compartment, no more hurrying! Relax! Once you have boarded the train, don't run inside the compartment with your luggage up and down, you're not going to reach any earlier; then I would say relax, relax, relax. Don't worry; you will reach at the right time, okay!
Catch more in the next post..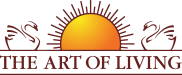 Founded in 1981 by Sri Sri Ravi Shankar,The Art of Living is an educational and humanitarian movement engaged in stress-management and service initiatives.
Mehr