Question & Answers with Sri Sri Ravi Shankar

Q: Gurudev, I don't know what is good for me and what is bad?
Sri Sri Ravi Shankar:
Drop that which gives you short termhappiness and long term suffering. Just keep this in the back of your mind.
Q: Gurudev, Please explain the meaning of seva (service).
Sri Sri Ravi Shankar:
One is our job, the other is seva. Both are different. You do your job for livelihood. Seva means seva- Doing like Him. God has given you everything, whether you remember him or not. He wants nothing in return. Do work and be in the way that will make the other person happy. The reward of seva comes only when when you want nothing in return.
Q: Gurudev, In the continuation of the same thing, should we believe in the match- making of the birth chart etc. Should we believe in all that? Does match of mangalik-non mangalik matter?
Sri Sri Ravi Shankar:
It is science but it depends on who does it. Many times in the name of astrology, people cheat others. There is something in chart matching, and you can do all that if you like. But Chanting 'Om Namah Shivaye' is best cure for all the short comings.
Q: Gurudev, How to keep the God and world together?
Sri Sri Ravi Shankar:
How can you keep them together? They are already one. Where is the question of combining them? In the nature of form, it is world, and same is God in its formless nature. You don't have to do anything to bring them together.
Q: Gurudev, I want to serve you. Where do I go?
Sri Sri Ravi Shankar:
There are so many opportunities here. Bad Antogast needs several people who would like to do some service.Come to the German Ashram.There are other places also.
Q: Gurudev, Is religion necessary to get deep into spirituality?
Sri Sri Ravi Shankar:
Religion is different from communism. Being religious means being compassionate, honest and not treating others as you do not want to be treated as.
Q: Gurudev, What is a sign of the dawning of wisdom?
Sri Sri Ravi Shankar:
Prasanna chitta (pleasant state of mind) is a sign. Friendliness, foresight, intuition, a mind in the present moment – these are signs of wisdom.
Q: Gurudev, How do you know if an answer is coming from within or from the rational mind?
Sri Sri Ravi Shankar:
There is no criteria. The calmer and serene the mind is, the right answer will come to you.
Q: Gurudev, How do I get over my fear of losing a loved one?
Sri Sri Ravi Shankar:
Through meditation.
Q: Gurudev, Why is meditation difficult to follow?
Sri Sri Ravi Shankar:
There are three things to start a good habit: greed, fear or love. First, if someone says they will give you a million dollars for not missing your practice, will you do it? You would say "I will do for five more days, just to be safe." If you have promised your loved one you will not smoke, you will keep the promise. If your doctor says you will die if you do it, then also you will quit smoking. I prefer love over greed and fear. A Guru is a symbol of love and commitment.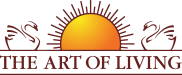 Founded in 1981 by Sri Sri Ravi Shankar,The Art of Living is an educational and humanitarian movement engaged in stress-management and service initiatives.
Read More