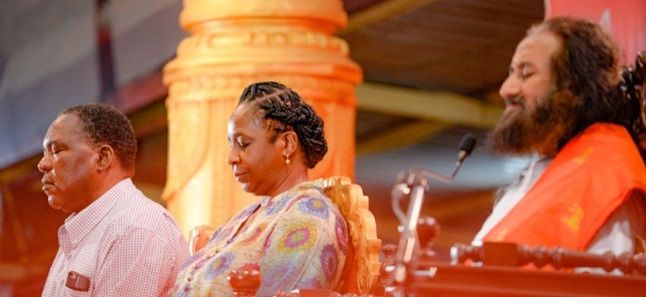 A call for guidance to Gurudev Sri Sri Ravi Shankar on Africa Day - 25th May 2019
"Voice of Africa" is an Africa-wide campaign prompting and promoting peaceful, holistic and constructive solutions for many challenges the continent is facing, ranging from violence, drug-addiction, poverty, trauma, crime and social inequality. It is a platform where people from all strata of the society, backgrounds and faiths can interact with Humanitarian and Global Peace Ambassador Gurudev Sri Sri Ravi Shankar by presenting their questions and challenges for his guidance.
Africa Asks Sri Sri
Participate between 1ST to 19TH May 2019 by asking Sri Sri your question related to any major challenges or issues faced anywhere in Africa.
Click here to fill the Google form:
OR
Tweet your questions to @SriSri with the hashtag #AfricaAsksSriSri
Join the LIVE online global Q&A session followed by a meditation for Peace in Africa led by Sri on 25TH MAY 2018 - 03.30 PM (CAT) / 01.30(GMT)/ 07.00 PM (IST)
For further information or queries:
CONTACT US:
www.artofliving.org/voiceofafrica
(Email your queries to voiceofafrica.aol@gmail.com and we will be glad to answer them)
https://www.facebook.com/aolafrica/
(Connect on Messenger to ask us all your queries)
Who are we
'Voice of Africa' is an initiative by the Art of Living Foundation, a non-profitable organization whose mission is to create a stress-free, violence-free world through transformational personal development programs, service projects globally in over 150 countries. The Art of Living Foundation was founded by Humanitarian and Global Peace Ambassador Gurudev Sri Sri Ravi Shankar.