Question & Answers with Sri Sri Ravi Shankar

Q: How do you feel to have the energetic field and wisdom?
Sri Sri Ravi Shankar:
Good! It is a very difficult question. You know wherever I go I feel I carry my own energetic field.
Q: Dear Guruji I don't know if I made a right decision. I had a relationship. I walked out of it then re-started it. Then my boy friend did the same. Is it a new beginning? Have I made the right decision?
Sri Sri Ravi Shankar:
Well, time will tell you. You know when we are upset it is an opportunity for us to know how much have we grown in knowledge. When we hold the responsibility – I have done something wrong to some one then 50% sorrow is diminished. The rest of the 50% is done when you know everything will change in the future. Once a gentleman was very angry with his wife. When he was asked why he is angry with his wife, he said, "Because of her, because I love her I am angry with her. If there wouldn't have been any care why would I fight with her?" You fight because you have a sense of ownership, belongingness. Because of the sense of belongingness you fight and because of that sense of belongingness you come together. Isn't it? But there are other people whom you should contact, I am not experienced in this.
Q: Guruji in Orissa, the Sri Sri University is going to be established. How can we connect to it and get benefitted?
Sri Sri Ravi Shankar:
Bhubaneshwar is not that far from this place. You should all join in and contribute. I invite all of you there. You send your children to study there and you also visit the place. It's not my university but yours.
Q: How can people from different communities come together?
Sri Sri Ravi Shankar:
Satsang increases awareness and a sense of belongingness. So many of us are here together but we are not asking each other about our caste or religion, are we? We are sitting here together as one family!
Q: Should we believe in superstition?
Sri Sri Ravi Shankar:
Once you know that it is superstition, then how can you believe it? If your brain and reasoning says it is illogical and not good, then what is the point of it? You should move away from it.
Q: What is Kundalini shakti?
Sri Sri Ravi Shankar:
We talk about it in the advance course. There are seven chakras in the body. When energy finds its way through these seven chakras, different emotions rise. When energy fully expresses itself through these seven chakras, then such perfection is attained that your desire gets fulfilled even before it arises.
Q: Guruji, how was the Vishalakshi Mantap (the five-tiered, lotus-shaped
meditation
hall in the Bangalore ashram) made?
Sri Sri Ravi Shankar:
Manuji (a devotee) said, "Guruji, we must have a hall where people can meditate. So I made a drawing and it was made. Earlier, there was no hall. The Ashtavakra talk (Sri Sri's commentary on the Ashtavakra Geeta) happened under a thatched roof, where rain water would be leaking.
Yet when we inaugurated the Vishalakshi Mantap, the hall was already too small! So many people had come. You know when people meditate together then the energy radiates in the world.
Q: How much should you trust a person? If someone breaks your trust what is to be done?
Sri Sri Ravi Shankar:
Educate them and forget about it.
Q: When was the first human being born? (laughter)
Sri Sri Ravi Shankar:
Tell me - where is the first point of a ball, of a tennis ball? This answer will follow. We keep thinking everything should have a beginning, and an end. But this universe has no beginning, no end. So, the Rishis used two words Anadi, and Ananta. Anadi means without beginning, and Ananta means without end.
Q: Guruji, I get bored nowadays. I am contented in my heart but nothing gives me joy except from your talks. What should I do?
Sri Sri Ravi Shankar:
My dear, why do you have so much time sitting and thinking about yourself? If you are happy, go and do seva (service). We have lots of things to do. Care for others, do some service. There is so much to learn. Learn more. Don't run behind joy. Let joy run behind you. If you follow joy, misery will follow. If you follow wisdom, fun and joy follow. Wherever you go, fun tags behind you.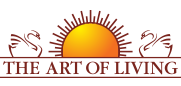 Founded in 1981 by Sri Sri Ravi Shankar,The Art of Living is an educational and humanitarian movement engaged in stress-management and service initiatives.
Read More