Question & Answers with Sri Sri Ravi Shankar

Q: Gurudev, Is there a practice that one can follow that does not cause suffering? Is there a joyful methodology?
Sri Sri Ravi Shankar:
Waking up to the reality. Knowing of this 'I' can lead to a state of devotion, of love. It is spontaneous. There is no need of surrender because it is already there. It does not have to mean a painful part of the ego. It is knowing that everything belongs to the divine, the thorn as well as the roses belong to the divine. What happens when you surrender? A permanent peace dawns in you, a smile that no one can take away from you. You wonder that there was such an illusion. You smile and realize that there is nothing to give away. Suppose you fill a pot from the lake, and you are carrying that pot of water. Then you pour it back into the lake. What can you tell the person when he/she thinks that he/she is giving water to the lake? It brings back a feeling of connectedness, and annihilates the sense of separation which causes pain and suffering. Sense of connectedness always brings peace and joy. So with this self knowledge, practice of meditation, singing, becoming one with the sound of satsang, you become one and merge into one consciousness. Satsang is everyone sharing together the consciousness and energy, everyone is sharing the sound. In Satsang, the mind gets united, all minds get united with the cosmic energy. It brings more benefit in singing when your awareness is focused, and you have one pointed attention.
Q: Gurudev, last night you told me that choice is mine blessing isyours. Does that mean whatever I decide, your blessing is there?
Sri Sri Ravi Shankar:
You are putting me in a toughsituation. If it is related to your profession then choice is yours, blessingis mine. If it is a relationship, then also choice is yours and blessing ismine.
Q: Gurudev, How do I know that I have acquired knowledge?
Sri Sri Ravi Shankar:
How do you if you have some pain in the body? How do you know you love somebody? How do you know you are feeling fear? It is inbuilt. Same way you get to know. When you get knowledge joy, happiness, cleanliness, sweetness, sincerity, integrity, all reflect by itself.
Q: Gurudev, What causes anger?
Sri Sri Ravi Shankar:
Your desire for perfection is the cause of anger. Leave room for imperfection. Perfection in action is almost impossible. Only 95 percent perfection is possible in action. Though, perfection in speech and mind is 100 percent possible.
Q: Gurudev, What brings about the misuse of power?


Sri Sri Ravi Shankar:
Misuse of power is immaturity. Someone who is not mature misuses power. Such power do not stay long because it's not power at all. It is only an illusion of power.
Q: Gurudev, My best comes out when I am pushed against a wall. It becomes a matter of do or die. That's the time when I have laser sharp focus, composure, drive and motivation to fulfill all my desires and intentions. But when I'm happy, comfortable and joyful, I can't seem to have that same composure and drive to motivate myself. How do I change that pattern?

Sri Sri Ravi Shankar:
Then ask someone to push you against the wall (laughs). There are no walls here. If you're not married, get married. Tell your spouse to do it for you.Listen, if you think that your best will come out only if you are in danger and when pushed against a wall, then you have put such an intention in your mind, and that is what is going to happen all the way. You know, you can do it even when you are happy, when you are joyful, when you are free. So, when you have recognized that this is your pattern, it is your responsibility. Nothing else can help you, only you can help yourself. You can say, 'Now, today I am happy, I am going to do it!'

Q: Gurudev, In Sri Lanka they are giving chemicals to farmers who can't read. The farmers don't know how toxic the chemicals are. They could get cancer if they even touched them. Developed nations are sending banned chemicals to these places. The farmers need to be educated.
Sri Sri Ravi Shankar:
This is exactly what we are doing. We have 65,000 youth volunteers who are working in various areas of India and parts of Africa. Yes, the US and Europe have banned DDT powder. It is sent to Third World countries where they think this white powder is good because it kills the bugs. This education is needed.
Like we preserve the seeds, we must preserve our mind by keeping the mind calm and pleasant. Activists are so worked up and so agitated. The mind is upset so their project does not take off. Some people are happy and peaceful and do nothing at all. This is not the way either. We need to preserve the mind through meditative practice and breathing and help our environment.
Every soul has five sheaths around it.
The first is the environment. The second is Prana or energy. Prana is life force. The third is mind force. The fourth is intuition. The fifth is bliss and we are naturally blissful.
So we are actively floating in the ocean of Prana. Prana is the life force, our body is like shells.
Q: Gurudev, For doing any work, I think Guruji is asking me to do it. It works, but it has hampered my normal living.
Sri Sri Ravi Shankar:
You should have a balance - what your inner voice says, what your gut feeling is, and then use your inner strength rest of the time. The one hampering you-that's called 'yoga maya'. Sometimes 'yoga maya' comes in mind and says things which are not correct also. That's why we shouldn't lose our intellectual discrimination ability while ordering and understanding to inner dimensional consciousness. This state happened to Sri Ramkrishna Paramhansa also, and to many enlightened people in the world that the inner vision comes, a voice comes. So, go with a balance. Go slow with both intellect and feelings. Got it? Your feelings are as important as your intellect. Many people survive only on intellect and some survive only on feelings. The best thing in life is to have a balance between emotions and intellect, between heart and the mind.
Q: Gurudev, Guruji, it is said 'Advaita' (Non Duality). Why it is not expressed as 'only one' but as 'not two'?
Sri Sri Ravi Shankar:
Because you need two to count one.
Q: Gurudev, Is world peace possible?
Sri Sri Ravi Shankar:
World peace comes with individual peace. If individuals become peaceful, communities become peaceful. Then the leaders of the world will also become peaceful, and we can have world peace. When people have broad vision for the whole world, world peace is a possibility. We need to spiritualize the politics, socialize the business and secularize the religion.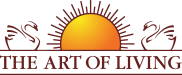 Founded in 1981 by Sri Sri Ravi Shankar,The Art of Living is an educational and humanitarian movement engaged in stress-management and service initiatives.
Read More