Question & Answers with Sri Sri Ravi Shankar

Q: Gurudev, We hear a lot about corruption these days in governments and other situations around the world. How can we do something to reduce corruption?

Sri Sri Ravi Shankar:
Corruption starts when the sense of belongingness ends. When we have a sense of belongingness, we can't be corrupt. When we expand our sense of belongingness, corruption will disappear. Does this make sense? Corruption begins outside the boundary of belongingness.
Q: Gurudev, You said Ashtavakra session has not ended and it continues. We had an unforgettable time here during these days. Please bless me so that I can come here when you have next Ashtavakra session.
Sri Sri Ravi Shankar:
Every step is complete. Whatever you have acquired is complete in itself. So, do not encourage any feeling of discontentment. Go back with contentment. You yourself are contentment.
Q: Gurudev, What is the difference between desire and resolution?
Sri Sri Ravi Shankar:
All the work in life happens through intention. You had this intention in mind to come here, and then only you could come here. If something keeps on bombarding your mind and doesn't let you sleep, then that is desire. You should not think that one should have no desire in the mind. Resolve to accomplish bigger tasks. Take on greater jobs in your hands. But you should also keep those aside at times and relax for some time.
Q: Gurudev, What is the mind capable of during sleep? Is it possible to transcend all states of consciousness?
Sri Sri Ravi Shankar:
Yes. In the waking state, you get the best rest and nourishment through knowledge. Dreaming state is deep rest. Sleep is even deeper rest. The fourth state is the meditative state.
Q: Gurudev, How can I motivate myself?
Sri Sri Ravi Shankar:
Only three things can motivate you or inspire you - love, fear, greed! But I don't agree with fear or greed, I believe in love!
Q: Gurudev, Why are there so many religions and communities? Why is the evil so strong?
Sri Sri Ravi Shankar:
Evil is not strong. You are giving it strength. It appears as if evil is strong, but it is not. The greatest power on the Earth is love. Love can melt any evil. It is due to lack of love and wisdom that evil exists. The moment love and wisdom comes into play, evil disappears. Like when the sun comes, the dew disappears. We have seen this. You know, when we give some wisdom and love to the extremists like terrorists, there was total change in those people. Some 300,000 prisoners, so called criminals, have done the 'Art of living' part 1 course, and their life has so much changed.
Q: Gurudev, Is it possible for all of us to get enlightened?

Sri Sri Ravi Shankar:
Definitely. Anytime! The seed is there. It can sprout anytime. It can become a big tree anytime.
Q: Gurudev, Is anger related to ego? Several Rishis in the Hindu tradition have been known to be very short-tempered. How did this affect their peace?

Sri Sri Ravi Shankar:
Not several. One of the Rishis is known for his anger. But always good happened through his anger. That's why I say, even the anger of a wise man does so much good, and love of an ignorant person causes more problems.
See, an illiterate mother, an uneducated mother, she doesn't like her children going to school because the young ones cry while going to school. Then she says, 'No, no. Ok, don't go to school.' They say they don't want to study, and she says, 'Ok, don't study.' Her love for her children has spoiled their whole life. Isn't it? So, even the love of an ignorant person does harm. And even anger of a saint always does good.
There are so many stories about one sage, his name was Durvasa. In India, if someone is very angry, they say 'Oh, he is a Durvasa!' means he is someone who gets angry at the drop of a hat. But he would come back to normal state immediately. This is to say, don't feel bad about yourself if you have anger.
Even a Rishi had some anger. So, you don't have to be too hard on yourself by blaming yourself. That is just to give you self confidence. To make you feel, you are ok, inspite of your little bit anger. That is only one rare case. That is to say that enlightenment is unconditional. It is what? It is unconditional. You can't put any condition on that freedom. Just to tell you, there is no conditioning. So it's possible to get angry also. And, sometimes anger can also do good.
To be continued in next post..
Q: Gurudev, Is it love or surrender when I feel your presence in meditation?
Sri Sri Ravi Shankar:
Surrender with love. And that which happens with surrender is love.
Q: Gurudev, I feel very strong in your presence and it feels good. I am very grateful to have you in my life.
Sri Sri Ravi Shankar:
Good good. Knowledge, meditation and relaxation will give you cool heart, and soothe your heart!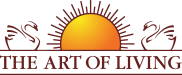 Founded in 1981 by Sri Sri Ravi Shankar,The Art of Living is an educational and humanitarian movement engaged in stress-management and service initiatives.
Read More