Reminiscing Gurudev's Childhood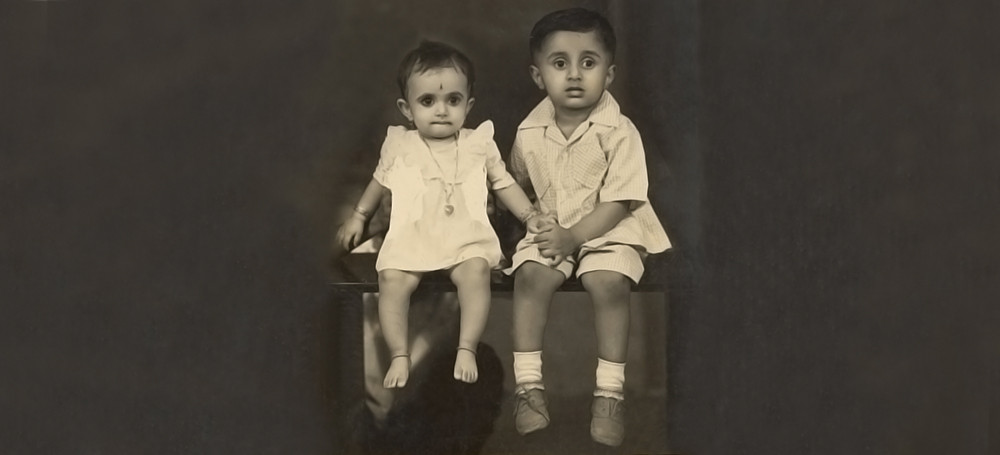 Bhanumathi Narasimhan reminisces her childhood with her brother, Gurudev.
I was born on Jan 11, 1958, in Papanasam, in the same house where Guruji was born. The Sanskrit name for sister is Sahodhari...one who shares the womb. Just the thought that my Master shared the same womb fills me with gratitude and my life continues to be a journey of gratitude and joy from moment to moment!
Often people ask me when I realized he was my guru. The truth is I have always followed him, unknowingly in the beginning, and with the knowledge later on, but his words and his steps have led and guided me throughout.
He has taught me to play, to sing, to meditate, to do puja, to care, to serve...the list is endless. When Guruji was about five years old and I was three, our games used to emulate the puja that we have seen our grandmother performing. Guruji would make his small shivalinga, offer flowers, chant few verses and keep some sweets to offer. I would sit beside him with eyes closed waiting for the sweets. Once I asked him why we had to offer because God doesn't seem to eat them anyway. He simply told me, "Of course God eats it, he makes it sweeter and gives it back for us!"
There was a small Shiva temple near our house where we would go every day. The temple had 108 shivalingas and Guruji would insist on going around each one chanting 'Om Namah Shivaya'. We were still just 5 and 3 years old. I would skip one or two and finish and at the end Guruji would lead me by hand back to those one or two and make me complete it! The awareness, the attention to detail and perfection in everything he did was amazing
He had his touch of naughtiness and humor also. Once, after coming back from school, we emptied Pitaji's (our father's) suitcase of all his files and filled it with our toys! He was supposed to go for an important meeting and he took all our toys with him there! When he opened the briefcase, it was certainly a surprise for all present. However, our father only complimented our sense of humor and encouraged us. Our parents gave us such a beautiful environment to grow up. My father had a very scientific outlook and my mother was very traditional. However, both were very broadminded and nurtured the same qualities in us.
Guruji was a leader at school as well. Sometimes even our teachers would speak to him for solace. They felt good and lighter speaking to him. He was a very talented student also. He would participate in music, dance, and theater and excel as well. However, one thing he could never do was play football. He would say that he was unable to kick anything away that came to him!
Today there are millions of people from all walks of life, and from around the world have come to him, seeking his guidance, feeling uplifted by his presence. I have seen him meeting members of parliaments, businessmen, simple housewives, farmers, laborers – often all in the same day, and he speaks to each one with the same rapt attention and care. The same continues whichever part of the world he is in. He travels from city to city, country to country, across time zones, incessantly and there are people waiting for him everywhere. He is never jet-lagged. He addresses their concerns, uplifts them with knowledge, guides them into meditation, inspires them to serve, and gives a higher purpose to their lives. I often say, if you have any doubt that he is divine, just travel with him once and you will know.
Once, someone asked him if he ever felt tired. He replied, "Does the sun ever tire of shining, or the river of flowing? I never do anything that is not in my nature."
I say, we are very fortunate to have a living Master with us. It is true that we may find a lot of the wisdom, the secrets to liberation and so on in many books or scriptures but only a lit candle can light another. Only the master can help us to experience and integrate this wisdom into our lives. Only the master can inspire so much love and light and give us an unshakeable smile.