Wish to do yoga at home? Once learnt properly, the yoga asanas are dynamic, flexible, fun-filled and effective. You can do it at home, right in your room. You can leave all the accessories and gadgets behind and simply be.
All you need is - You!!!
Daily home practise of yoga will keep you healthy, more productive, calm and happy all day. It also enables you to effectively deal with the challenges and stresses of daily life.
Twenty minutes of daily practise is better than two hours of occasional practise.
What you need – for home Yoga practice
If possible, keep a separate room for your home practises.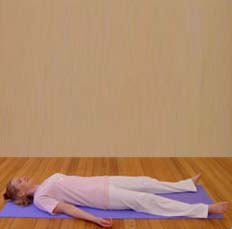 Ensure that your practise room is:
Clean and well-ventilated
Comfortably warm: The body stretches better in warm temperature
Yoga, practised with sincerity creates a positive atmosphere
Over time, you will experience this not only within you, but also in your home - in the room where you practise
Positive energy builds up in your room and provide healing,strength and comfort
When to do Yoga Practice?
Early in the morning: It keeps your enthusiasm and energy levels higher during the day
Late in the afternoon or early evening before dinner: This will help get rid of stresses and tensions, accumulated during the day, making you feel refreshed
Do's
Yoga asanas are done with empty stomach
Minimise distractions while doing yoga
Practise away from furniture or any sharp objects
Make your Yoga practises regular and consistent
Don'ts
Avoid having heavy food before yoga practise
Do not practise yoga as a substitute for curing health problems: Take medical advice as well from your physician
Do not practise yoga in excessively high temperature, since the body will feel uncomfortable and the mind becomes restless: Very high temperature may limber the muscles slightly more, but it can also be hard on the internal organs
In very high temperatures, the body gets tired easily, giving a false notion of a good yoga practise
A happy person spreads happiness all around. So you are doing these practises not just for yourself, but for the happiness of people in your home as well. Do not feel guilty for taking time out for yourself. Give yoga an important place in your life. It will bring many rewards.