During the fall of 2017, the US has experienced horrific mass shootings in several states - the worst by far being the Las Vegas atrocity in which 58 people were killed and hundreds more wounded. Citizens naturally want to help, from speaking out against gun violence to bringing relief in whatever way we know how. A team of volunteers from Art of Living and International Association of Human Values (IAHV), a worldwide non-profit organizations teaching trauma and stress-relief programs, arrived in Las Vegas one week after the shooting to offer free workshops and hold a city-wide event called Vegas Meditates, to facilitate the healing process in the Vegas community.
#VegasStrong - how real was it?
Arriving in Las Vegas Saturday, October 7th and walking around the casino in the South Point Hotel where we stayed was, for us, like entering a twilight zone. The casino was filled with people entranced by the slot machines, playing cards; it didn't appear as if anything unusual had happened. The only visual marker of the Vegas shooting were the words "VEGAS STRONG" scattered across some billboards and digital signs on bars and restaurants. But walking around the casino and observing the employees working and living in Vegas, we had a subtle feeling of something wrong, like an itch that could not be sourced, let alone scratched and relieved. We hoped that our presence could begin to guide others step by step to a path of self-care, self-compassion, and relieving the psyche of past traumas.
The community comes together for peace
Art of Living volunteers enjoyed tremendous support from the local Vegas community, media, hotel and business owners. Thanks to their support, organizing and publicizing the Vegas Meditates event was smooth and effortless.
The founder of Art of Living, world renowned peacemaker and humanitarian Gurudev Sri Sri Ravi Shankar, sent from India a 2-minute message specifically for the audience of Vegas Meditates and all those joining live event online. He expressed his concern over incidences of gun violence and appealed to the people to come together to meditate for peace and healing.  
One volunteer from Tempe, Arizona wrote about her experience preparing for the event:
"It's been touching to connect with the community - the people that are working in the city and actually living near the scene feel the situation so deeply. There are still tons of tourists in the casinos and all around. Restaurant managers/owners love to hear about what we're doing and we keep thanking each other for being strong for the community. On the visual level one would think nothing has happened or changed.. yet once we open up a conversation, someone either used to work in the area where it happened or had a niece or granddaughter's friend there...  in all honesty there's a feeling that hotel/casino owners want to forget and keep things going per usual; however at least for me, there's an unavoidable remembering in the back of my head that something awful just happened and the people need help​."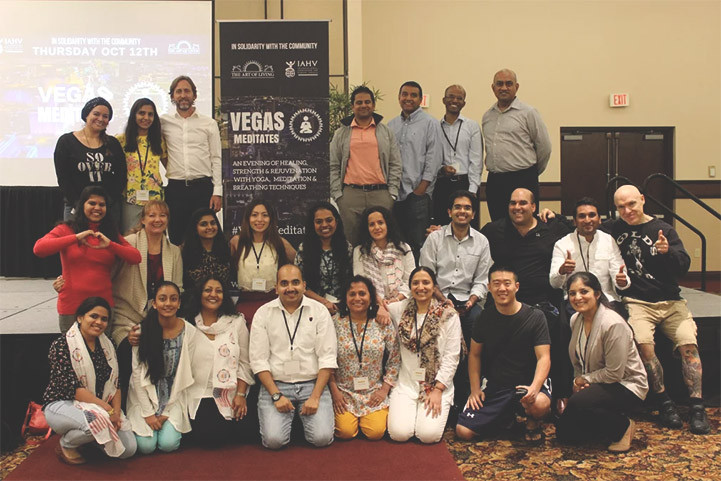 Vegas Meditates - a journey of healing and connectedness
Vegas Meditates was a great success. Participants had a deep experience of togetherness, peace, and relaxation. They learned several breathing exercises led by Jitesh Vaswani, an Art of Living teacher and IAHV volunteer, heard Gurudev Sri Sri Ravi Shankar's message, and experienced a guided meditation led by Neelam Madaik, a senior Art of Living teacher.. An estimated 90 people were in attendance and 948 joined for the meditation on Facebook Live.
Several of those in the audience spoke about the importance of kindness, compassion and connecting inwardly. Others spoke of their understanding that members of the community must take responsibility to keep this flow going, to keep the Art of Living connected with Vegas in order to deliver real experiences of trauma and stress relief, true joy and knowledge for practical use in everyday life.
People in the audience asked, "Art of Living is in 155 countries, but why not in Vegas? Why didn't you come sooner - where have you been all these years?" "We don't want you to leave, please stay, please come back."
Another participant spoke to her peers,
"...We are the ones creating our future. We are going to be the ones telling our friends about this and they're going to tell their friends about this and they're going to share this with other friends on social media. Those visiting us here on the stage, they are only humans. We are the ones to spread the word and make this happen."
To everyone's surprise, a tattooed bodybuilder stood up before the entire room:
"..I think some bad things happen, like they just did, just to bring us together. You ask how we are going to do this here? Well, we (pointing to himself and the audience) are going to do this here. I was an Art of Living teacher, and this event has inspired me to reclaim the game. I live here - and what we need to do is make an Art of Living webpage.
This is how it happens. A bad thing happens so a good thing can happen. I have been away from this...but seeing us all together, and being together...maybe those people didn't die in vain; bad things in the world don't happen in vain."...
He continued, with emotion swelling up around the room:
"….[Bad things happening] are to inspire you now, to do what Gurudev is doing. Gurudev works tirelessly. This man travels 365 days a year. I was his personal trainer for a while, telling him how to work out in the gym. And he told me something; he said 'I belong to you - we all belong to each other.' And that's what meditation is. When people [say] 'I belong to you', things like this aren't gonna happen… So I want everyone to turn to the person next to them, and just say that to the person next to them. I want you to turn to the person next to you and say 'I belong to you'."
After friends, family, and strangers turned to one another and repeated those four powerful words, the former Art of Living teacher declared what was to happen next: sharing contacts, posting on social media, and those good at social media stepping forward to help create an Art of Living Vegas chapter. Everyone claps. "My name is Nomad, and I belong to you."
To honor the request of some of the participants, the very next day, Art of Living's signature workshop, the 3-day Happiness Program, was announced. We all felt a bit of relief - some of that elusive itch had been soothed. Another Happiness Program is planned for December, and the new Las Vegas chapter of Art of Living is energized to continue bringing healing to their community.
Hopes for the future
The question now is how far can we take this, and how soon? How to make meditation and peace "zesty" and "fashionable"... How soon will all the leaders of world see the power they have to bring peace and healing to a hurting community, itching and thirsting for inner solace? As this collective awareness grows, the Art of Living Foundation teachers and volunteers will continue to work tirelessly, inspired by founder Gurudev Sri Sri Ravi Shankar to foster a world with a smile on every person's face in a stress-free, violence-free society.
Donate and Support Art of Living at www.traumarelieffund.org
By Alicia Nelson and Sejal Shah
Volunteers for Vegas Meditates