25 May 2015 Bangalore, India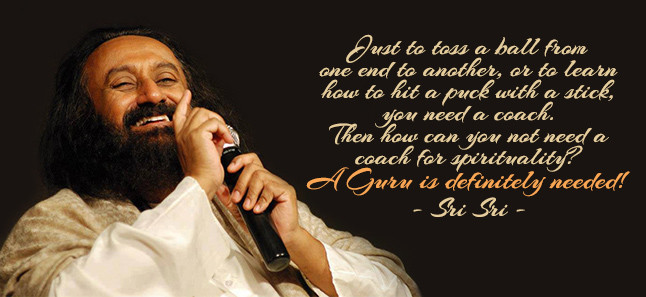 We all just sang a bhajan about Vitthala (a deity from Maharashtra seen as an incarnation of Lord Vishnu). This entire creation is made from Vitthala. We sometimes think that Vitthala is just this idol that is placed before us in the temple. No, that is not so. Everything in creation is made up of Vitthala, and He is omnipresent. That is why we sing – "Mata Vithhala, Pita Vithhala, Guru Vithhala, Sakhaa Vithhala…" (My mother is Vitthala, my father is Vitthala, my Guru is Vitthala, my dearest friend is Vitthala). It means, seeing Vitthala in everyone around us. This is the real essence.
In Hinduism, it is believed that one cannot obtain liberation without the Grace of the Guru. Why is this so?
Sri Sri Ravi Shankar:
This belief is not limited to Hinduism alone. In fact, even in Buddhism, Jainism and other religions of the world, it is a widely held belief that one cannot progress and find liberation without the Guru. You will find this in Christianity also. Jesus Christ has said, "
If you wish to go to my Father, then you have to go through me
". It means that if you wish to meet and unite with God, you have to go through him (
here meaning the Guru, or the Apostle
).
The Guru Tattva is present everywhere and at all times
.
If you wish to learn driving a car or to get a driving licence for yourself, you need an instructor; a guide. When you learn how to play football, you need a good coach to teach you. At times, we also bring a coach from another country to teach our Indian cricket players. Just think: to just to toss a ball from one end to another, or to learn how to hit a puck with a stick, we need a coach or a guide. Then how can one not need a guide for Spirituality? A Guru is definitely needed.
What happens when you have a Guru in life?
1. Sorrows diminish when the Guru is there
2. Happiness and contentment overflows in life
3. A Guru also helps preserve and protect the knowledge
4. All talents and skills blossom in the presence of the Guru
5. You experience total abundance in life in all aspects
Now when you has a Guru in life, how can there be lack of any kind? When you have a Guru, then you do not go about crying and complaining about little things in life. You gain such strength and stability, that whatever you think of starts to manifest and happen. How many of you here have had this experience? Raise your hands (Many in the audience raise their hands).
See, with the Guru, one's very sankalpa (intention) starts to manifest for sure. Seeing all these positive things, our wise Rishis and ancestors have correctly said, "Guru bina gati nahi" (Meaning: there can be no progress without the Guru).
Gurudev, what does one have to do to become a Rishi or a Swami?
Sri Sri Ravi Shankar:
One does not need to do anything to become a Rishi or a Swami. Just having this sincere intention to become one is good enough. And along with that, one has to follow the rules and discipline of that lifestyle, that's it.
When one does not want anything for oneself, then such a person becomes a Swami. A Swami works for the welfare and benefit of everyone else. If one is married, then they become a Rishi instead of a Swami.
Gurudev, in English, America is called as America, Nepal is called as Nepal, Sri Lanka is called Sri Lanka and so on. But why is Bharat (name for India in Hindi) called as India in English?
Sri Sri Ravi Shankar:
When Bombay became Mumbai, then soon India too will become Bharat once again (referring to India returning back to its ancient times of peace and great prosperity). Just like Madras became Chennai, and Bangalore became Bengaluru once again. So we are slowly going back to using the original names as per the Indian culture.
After the British left India, we started using the names they had given to our towns and cities, which is why we have such differing names in Hindi and English. Though the British left India, the mentality of slavery and servitude towards their ways had not yet left our Indian mind-set. Now we are going back to our roots and we are seeing a revival of the pride that we took in our country and its culture. So this change will also happen soon.
Gurudev, I am a practical and career-focused girl always facing the male ego at the workplace. How do I handle this? Am I wrongly born as a girl?
Sri Sri Ravi Shankar:
No, not at all. Do not doubt yourself or your gender. Every one of us has both male and female aspects in us. So you should honour both. If sometimes the male aspect in you is dominant, it is alright, and you must honour that.
Now do not recognize that others have a big ego. Your recognition gives power to the ego. So do not recognize it. Just be natural. The antidote for ego is naturalness and a sense of belongingness, having a sense of oneness with others. If they do not feel that way then that is their problem. From your side, you should feel natural and feel that you are a part of them, and they are also a part of you. A big shift will happen when you experience this.
Dear Gurudev, I am not able to forget my past. My past keeps following me, and this disturbs my relationship with my husband. What should I do?
Sri Sri Ravi Shankar:
You have come to the right place. Meditation is the answer. Meditation makes you alive in the present moment, and you feel disconnected with all that happened in the past. How many of you have had this experience that you have become a totally new person after doing Sadhana? (Many in the audience raise their hands) All the old things have dropped off, and you are not the same person now. Even when you look back and reflect, you will not be able to relate to how you were as a person before coming to the path. You feel, "Oh, was that really me back then?"
Gurudev, you travel so often and to so many places. Do you not get exhausted because of travel?
Sri Sri Ravi Shankar:
Do you ask water if it gets tired of flowing? Do you ask the tree if it ever gets tired of standing all the time? Does it not wish to lie down for a while? These trees have been standing for so many years. Have you asked the Sun if it gets tired of shining all the time? Everything follows its own nature, and I am established in my nature. I do not do anything that is not my nature, and I do not do anything to influence someone else, that is not my nature. Nor do I do anything to especially endure any kind of lack or challenging time. This is why we never feel any lack at all. There is only abundance. Also, I never get wrongly influenced by anyone else because I remain steadily established in my nature.