Guru
Search results
Give it to me! Drop it. Anybody that you cannot forgive or anything that is bothering you, I am here to take all that. The Guru is there to take all your problems and challenges away. So you can just push it here. ...

Do you need an answer to this question? One who answers a question becomes the Guru and the one who listens becomes a shishya (disciple). Having asked this question, you are caught. Since you have asked this question, you have said, 'I need a Guru'! It ...

There is no difference, they are the same. One who doesn't have the virtue of truth in him can't be called a Guru. It is an adjective, nothing else. ...

No, it is absolutely fine. There is nothing wrong with tears rolling down your eyes. It is very natural and good. There is no problem with it. When the heart blossoms then tears come, this is very natural. What happens when you come close to one w ...

It is said, 'Mere Guru hi jagat Guru hain – mere naath hi Jagat ke naath hain' (My master is the master of this Universe) – this is what one should believe, and this is the truth. Dharma Guru, Jagat Guru or Sat Guru, these are just different names - w ...

No, there is no compulsion. It is only a tradition which has been continuing. There is only one Bramha, only one God; but sometimes we worship Him in the form of Ganesh, sometimes as Shiva, sometimes as Kartikeya and sometimes in the form of Divine Mother. ...

(Laughs) Oh really! Something happens?! I myself am a mirror. If you look at me, you see yourself. If you are loving, you will see love in me. A Guru is a mirror. ...

See, if you are following another Guru, there is no problem. Just think that you have come to the satsang with his blessings. See all in one, and one in all. ...

Vacancy is there! There is vacancy, you can become one. ...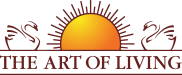 Founded in 1981 by Sri Sri Ravi Shankar,The Art of Living is an educational and humanitarian movement engaged in stress-management and service initiatives.
Read More