Question & Answers with Sri Sri Ravi Shankar

Q: Gurudev, There is so many violence and natural disasters happening in the world. Why does God let this all happen? If God exists then why does all this happen?

Sri Sri Ravi Shankar:
You chop off some leaves and branches of plants. Don't you prune rose plant? Does it die by pruning? It grows up. Same way nature brings all this from a bigger picture.
It is not always ripe fruits that fall from a coconut tree. Sometimes even small coconut drops off. Baby fishes are also swollen by big fishes in an ocean. So, these natural calamities are all part of the nature. If we exploit nature too much, more natural calamities occur. We are putting dynamites in the Earth. We are blasting it every day. Imbalance gets created and so Earth starts shaking. Sustainable development is what is needed today. We need to care for the planet.

Nature moves with the law. God means a rule, a law. Everything goes by that. This planet Earth has to be protected and cared for.
One is natural calamity. Another is man-made calamity. Man-made calamities can always be avoided. People are not valuing human life for a little piece of gold. Human values need to be brought back into society.

Q: Gurudev, What should I do with the conflict in my mind?
Sri Sri Ravi Shankar:
The moment you realize that there is so much conflict in your mind, your eyes open. Satsang and pranayamas can put an end to it.
Q: Gurudev, How can we overcome fear of death?
Q: Gurudev, Guruji, so if someone slaps us, should we offer the other cheek also for the slap?
Sri Sri Ravi Shankar:
If the person is sensitive, offer your other cheek, and he will not be able to do it. But if someone is insensitive like a buffalo, then you can give two three also!
Q: Gurudev, What is Brahamcharaya?
Sri Sri Ravi Shankar:
I have talked about this in Yogasutras. You should listen to that. Brahama means infinite consciousness. Establishing mind in that infinite consciousness is Brahamcharaya.
Q: Gurudev, Can you please say something about Sri Aurobindo and what his message and life were about?
Sri Sri Ravi Shankar:
You know, when you are asking about Sri Aurobindo, you already know. He wished more and more people would meditate. So the seed he had sown meant greater access to the collective consciousness. It's happening now. Those days it was very dull, although a few French people really caught on to it.
Q: Gurudev, What is the solution for peace in Afghanistan?
Sri Sri Ravi Shankar:
Remember there were Buddhists there. The forefathers of Afghanistan were pioneers of yoga and meditation. Just realizing this, people would become less fanatical and more broad-minded. By thinking only they will go to heaven and all others go to hell, they create hell for others. We need to be broad-minded. Every child should know a little about the Upanishads, Quran, Guru Granth Sahib and so on. The holy book Guru Granth Sahib, for example, contains the essence of all the Upanishads. So it is very important that every child should know about the Guru Granth Sahib. They will grow up with a broad mindset. The sacrifice that Sikh Gurus have made is unthinkable. Without that, yoga and meditation would have disappeared from this planet. The Sikh Gurus lived a life of sacrifice. They protected the Brahma knowledge, the universal knowledge. Every child should know a little bit about this.
Q: Gurudev, Whenever I meet you, I don't feel satisfied. I feel you give more time to others than me. Today also in darshan line, you never looked at me and moved ahead. And whenever I get a chance to talk to you, I just don't know what to talk! Then I think, "Oh! I forgot to ask this, forgot to tell this". The analysis starts in my mind. What to do?
Sri Sri Ravi Shankar:
How can I not see you? I leave none unseen, I see each and every one-all who come to visit me in the darshan line. And you forget to ask or tell anything on meeting me, that's OK. You have told it now, got your chance, yes?
Q: Gurudev, Some volunteers from the 'Art of living' want to enter into politics with your blessings.
Sri Sri Ravi Shankar:
Yes, it is alright, they should go into politics, clean up the politics like the 'Art of Living' volunteers cleaned up Yamuna!
*Devotion
**Karma
***Meditation
Q: Gurudev, When God is everything then who does wrong actions? Why it is that someone is a saint and someone a thief?
Sri Sri Ravi Shankar:
The way you act, God awards the fruit of the action accordingly. If you steal, God will come to you as a policeman. Your actions, good or bad, decide your experience of joy and sorrow. Joy and sorrow are the outcomes of your discretion; it depends on your discretion in performing actions. It is ok if you drink one glass of milk. But what happens if you drink three kilos of milk? Without the use of discretion, nectar can turn to be poison.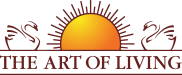 Founded in 1981 by Sri Sri Ravi Shankar,The Art of Living is an educational and humanitarian movement engaged in stress-management and service initiatives.
Read More