Question & Answers with Sri Sri Ravi Shankar

Q: Gurudev, How can we strengthen the faith?

Sri Sri Ravi Shankar:
: Your very thought to strengthen the faith strengthens it. Move ahead assuming that your faith is very strong. When your intellect is purified, faith automatically gets strong. We should have a pure diet in order to purify the intellect. So, pay attention on your food. If you eat food thinking all sort of negative things in the world, that also affects the intellect. Many times people get time to converse only during meals, and they discuss about topics like diseases while preparing and eating the food. This is very wrong, and we need to get rid of this habit. You become what you eat. The type of food you take governs your mind. And again your mind has a direct impact on your body. That is why you should eat food with a happy state of mind. If we are very excited, we cannot swallow food with ease. Also if we are restless, we end up eating more food. So, it is important to have food with awareness.

Q: Gurudev, Where do you get courage from?

Sri Sri Ravi Shankar:
From Advaita - Knowing that there is something in you that is not changing. A little experience of silence, calmness and meditation will give you enormous courage from within.
Q: Gurudev, Is homosexuality evil?
Sri Sri Ravi Shankar:
I don't think so. Eastern philosophy does not even say that it is evil because you are made up of both male and female DNA. In your DNA, you are half your mother and half your father. Both male and female aspects are in you. In some people the male is more dominant, though your physical body is female. Then you become lesbian. And if your female aspect becomes more dominant and you have a male body, these tendencies may come up at different times. So don't label yourself as wrong or feel guilty. These tendencies come and go. Many people, who are straight, suddenly have these feelings, and then they are so shaken within themselves. Many people come and talk to me about this problem. Similarly, people who label themselves as gays or lesbians suddenly find their preferences changing. So, all this is fluid. Our tendencies and mind are fluid. I tell you, we should not blame ourselves at any cost. Self-blame is a sin. When you blame yourself, you can never settle down. When you haven't settled down, you can never focus on anything.
Q: Gurudev, How do you forgive someone who has hurt you deep yet shows no guilt or regret?
Sri Sri Ravi Shankar:
I want to tell you that most of the questions have been answered in the books – Celebrating Silence or Celebrating Love.
Q: Gurudev, What is the difference between Ashtavakra Geeta and Bhagwad Geeta?

Sri Sri Ravi Shankar:
One was sung in a royal palace and other in a battle field. You yourself see now what the difference is. It is like a song having different tunes. Both have their own value. When life seems to be a battle, Bhagwad Geeta will give you solace, and then Ashtavakra Geeta.

Q: Gurudev, Is it ever possible to be free from desires?


Sri Sri Ravi Shankar:
Yes. Otherwise you could never sleep. If the desire haunts your head, you can't sleep. You let go of the desire so you can sleep. At different times, different needs arise in your body and mind. So, you do not sit here and worry about what you are going to have for tomorrow's dinner. You know that you have come here for a different purpose. An intention is different from the desire. An example of intention would be the thought that you want to go to New York, and you sit in the car and you drive. You go through Philadelphia and New Jersey. You take the turnpike or I-95 North until you get to New York. This is an intention. Desire is when you sit in the car and say, "I am going to New York, I am going to New York, I want to go to New York, I want to go to New York." Continuously chanting like this may lead you ending up in the mental hospital. You won't end up in New York. This is the difference with a sankalpa (an intention). An intention with attention and it will manifest. If the intention becomes a desire, it only brings grief whether it's fulfilled or unfulfilled.
You know, in the 1960's and 70's we had the Hippie Movement. It was created out of abundance rather than lack. All of these people had everything in abundance. People who go to drug abuse or who are indulging in alcoholism are lacking in spiritual education or knowledge. They are seeking an experiential validation of their spirit. That is what leads to depression. There are large populations suffering from depression in the world today. According to statistics it will rise to as much as 50 percent in the coming decade, half the population will be depressed. We need to change this and Prozaic is not the solution. The solution is meditation and yoga.
Q: Gurudev, What is the most important thing a person can do to realize God in their life?


Sri Sri Ravi Shankar:
Smile and serve. Smile at yourself. Smile at your own mind and how it vacillates. Watch your mind and smile at your mind. Don't be swayed by the mind but smile at it and serve the people around you in whatever capacity you can. You don't have to do things that you cannot do. The world does not expect you to do that which you cannot do. See, if you are not a doctor, nobody expects you to give them medicine. Right? If you are not an engineer, nobody expects you to repair anything. The world expects from you that which you are able to do. And doing what we can is service. We need to do a little bit of service. Whatever we do, a portion of it should go back to society. Everyone should do this. My grandfather took all the gold that was in the house and gave it to Mahatma Gandhi. He sent his family to his in-laws house and stayed in Mahatma Gandhi's ashram (seva gram) for twenty years serving Mahatma Gandhi. When we came to Bangalore, my grandfather introduced my father to Mahatma Gandhi. My father happened to have his gold chain on his neck. Mahatma Gandhi looked at it and asked "Is this necessary for you?" That gold chain, which was only fifteen grams, was all that was left. Immediately, my father said, "No, not necessary, you can take it. You are doing something for a big cause. You are doing the non-violence movement. This is for the country, for the nation, for the continent." He immediately gave it to him.
When I was in school, pride was attached to simplicity, to equanimity. When you are equanimous, you are smiling and compassionate. The compassionate person was considered a hero. One who would never lose his temper was considered normal. Today, unfortunately, pride gets attached to aggression and violence. Every hero is very aggressive. So, if a college student is more macho and beats up everybody, he becomes a hero, a role model. This shift in role model is a problem all over the world. We need to bring back spirituality, the spirituality we all grew up with. Have an equanimous and balanced mind. Show compassion to everybody.
Q: Gurudev, Guruji, I was doing service today and I must admit that I did service only to draw your attention.
Sri Sri Ravi Shankar:
Never mind! You know, don't feel guilty that you did service to get attention. At least you did service! And as you will move on, you will improve. Many times people also ask questions just to draw attention, I know that! But don't make the habit to have just attention, do both.
Q: Gurudev, Is homosexuality wrong and to be changed or is it life'svariety?
Sri Sri Ravi Shankar:
It is a tendency. Many times it changes.So don't label it. It is there now. It may not be there later. You are acombination of your mother & your father. We have genes of your mother aswell as father. Sometimes male tendencies dominate, and sometimes female.Preferences may be stronger for some. Don't feel guilty or blame yourself. Riseabove it. You are not only flesh. Youare light around the wig of flesh. Shift from gender to genderless spirit, itgives you such ease.
Q: Gurudev, There is so many violence and natural disasters happening in the world. Why does God let this all happen? If God exists then why does all this happen?

Sri Sri Ravi Shankar:
You chop off some leaves and branches of plants. Don't you prune rose plant? Does it die by pruning? It grows up. Same way nature brings all this from a bigger picture.
It is not always ripe fruits that fall from a coconut tree. Sometimes even small coconut drops off. Baby fishes are also swollen by big fishes in an ocean. So, these natural calamities are all part of the nature. If we exploit nature too much, more natural calamities occur. We are putting dynamites in the Earth. We are blasting it every day. Imbalance gets created and so Earth starts shaking. Sustainable development is what is needed today. We need to care for the planet.

Nature moves with the law. God means a rule, a law. Everything goes by that. This planet Earth has to be protected and cared for.
One is natural calamity. Another is man-made calamity. Man-made calamities can always be avoided. People are not valuing human life for a little piece of gold. Human values need to be brought back into society.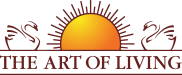 Founded in 1981 by Sri Sri Ravi Shankar,The Art of Living is an educational and humanitarian movement engaged in stress-management and service initiatives.
Read More