Question & Answers with Sri Sri Ravi Shankar

Q: Gurudev, Does the cycle of life and death never end?
Sri Sri Ravi Shankar:
The whole world is like that. It's all spherical: everything moves in cycles. You have to come back, but you have a choice. If you are born out of compulsion then it's the same old story again and again. But if you get liberated, then you have the choice and the will to be born when you want. When you come back liberated, it is joyful.
Q: Gurudev, How can I maintain happiness?
Sri Sri Ravi Shankar:
Do not make such an effort. In order to save your happiness, you have to spread it. Share your happiness with everyone. Why worry in this short span of life when there is such beautiful knowledge.
Q: Gurudev, How do I feel more energetic repeating the same old routine every day?
Sri Sri Ravi Shankar:
First look into the mirror and give a big smile to yourself. Ok? Then do some deep breathing, little bit of yoga and meditation. Give some time to yourself everyday and you will be more energetic and beautiful.
Q: Gurudev, Is it true that some places have negative and positive vibes? I have experienced that our group working in our suburb doesn't get the success it does outside. What should we do to increase the sattva of a place?
Sri Sri Ravi Shankar:
Keep working, keep doing. Everywhere it is possible to make a change. It's just a matter of time.
Q: Gurudev, Is there a masculine and feminine side to everything? Then why do we categorize things as male or female?
Sri Sri Ravi Shankar:
Yes! There is a neutral gender also. There are 3 genders. Some things fall under the neutral gender too. In fact, there is a whole scripture on the gender of stones as well as trees. The Shilpa Shastra or Book on Sculptures elaborates on this. Hawaiians also say that different stones have different genders! They can identify those. But it doesn't matter. The Self, or the Spirit is beyond gender.
Q: Gurudev, What is the fastest way to feel belongingness and unity?
Sri Sri Ravi Shankar:
When you are free from stress, you have a sense of belongingness and understanding. This is what happens when people undergo The Art of Living program. It happens so naturally.
Q: Gurudev, What is faith?
Sri Sri Ravi Shankar:
What is faith? To understand faith, you must know doubt.
Q: Gurudev, What shall we do to always be happy, because as I know your concept is to relax and attain happiness by that?
Sri Sri Ravi Shankar:
What to do to always be happy? First, drop the feverishness to hold onto ALWAYS and you will find yourself happy. And then, if some moments of unpleasantness creep into life, accept that also.
Q: Gurudev, What is the golden rule of a happy married life?
Sri Sri Ravi Shankar:
Well, I am not qualified to say anything, but let me think. Why don't you sit with those who are happily married? What I have heard is:
Before marriage: a couple is mad for each other!
During marriage: They are made for each other!
And then: They are mad at each other!
After while: They are mad because of each other.
Somebody here has formulated this!
One thing I know, marriage is an institution of patience, sacrifice, caring for each other and sharing. If one is upset, other should keep quiet and wait for his/her turn to get upset. If both together get upset at the same time, then there is a problem! But in front of kids, one should better be civilized.
Q: Gurudev, How did you know you were a Guru? Did you have a Guru? Sometimes I wonder if I'm a Guru, maybe just for myself. What would you say to that?
Sri Sri Ravi Shankar:
You can't be a surgeon for yourself. You may be a surgeon but you can't be your own surgeon, right? So your mother is your first Guru. A mother teaches you. Of course, a Guru is one who is unconditional in his attitude and approach towards you. You should play the role of a Guru unconditionally. You help others or care for someone with wisdom. Then you are playing the role of a Guru to them too.
If you help somebody with an attitude of 'I want nothing, I just want your progress' then you're a Guru to them. Yet don't demand them to accept you as Guru. No, a real Guru does not demand anything, not even gratitude from somebody.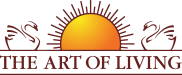 Founded in 1981 by Sri Sri Ravi Shankar,The Art of Living is an educational and humanitarian movement engaged in stress-management and service initiatives.
Read More