"Yoga means to be free from sorrow and to avoid
the sorrow which might come in the future."
– Gurudev Sri Sri Ravi Shankar
Experience the union of body, breath and mind in a joyful manner through yoga postures at Sri Sri Yoga Level 1. Meditations and other relaxation techniques help you relax deeply, energize, and heal. Whether you are a beginner to yoga or even a regular practitioner, there is something for everybody on Sri Sri Yoga Level 1.
What to expect in Sri Sri Yoga Level 1?
Designed by Gurudev Sri Sri Ravi Shankar, this 10-hour Sri Sri Yoga course includes the following:
A combination of light warm-ups, mild stretches and intense yoga postures for a complete body workout.
How yoga poses help you?
Stretch, tone and strengthen body muscles

Help in weight loss

Cleanse the system of toxins and help cure ailments
Pranayamas (breathing techniques) that help calm the mind and are a powerful technique for relaxation.
Why breathing techniques are good for you?
Increase oxygen supply to the heart and blood

Excellent purifier for the entire system

Release the stress accumulated in the body and mind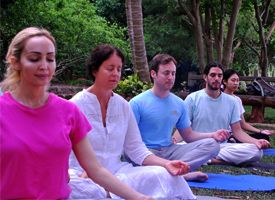 Guided meditations that lead you to a state of deep relaxation.
Meditation is like a pampering spa treatment. Why?
Heals several body ailments naturally

Reduces anxiety and develops emotional stability

Increases intuitive ability

Improves concentration

Brings clarity and peace of mind
Simple tips that can be easily integrated into day-to-day living: Learn how yoga helps to deal with daily stresses, improve relationships with people around you and enhance the skill in handling a situation better with an everlasting smile.
Understanding of healthy living through Ayurveda. Identify your unique body type and follow a balanced natural diet that complements it.
What's more – you can even consult a Sri Sri Yoga teacher during the course to chalk out a personal yoga plan to specifically work towards your needs.
What Sri Sri Yoga Course participants say?
I felt so energized and refreshed after my first Sri Sri Yoga
Level 1 Course. In fact, today if I miss practicing yoga in the
morning, my body keeps telling me it is missing something!
– Mukta Behere, Content Writer
My back pain disappeared! I feel stronger and more peaceful.
– Neeraj, MD Gastroenterology
I feel blissful and forgot my work tensions. I'm smiling again.
– Konark, Project Lead, BCG
I am not scared to do yoga anymore!
– Cathleen, Interior Designer
Each and every state must organize such a wonderful
course so that they need not build hospitals.
–Janshibala
Sri Sri Yoga Level 1 course format
Join Sri Sri Yoga Level 1 in your neighborhood or treat yourself to a yoga retreat while staying in one of our beautiful, scenic Art of Living centers.
In your neighborhood, the Sri Sri Yoga Level 1 Course is offered as a five-day workshop, either consecutive or weekly, for two hours each day.

For the residential course at Art of Living centers, one can take a yoga holiday on any weekend in a peaceful and serene environment.

For the non-residential course at Art of Living centers, five sessions are spread over two weekends (Sat-Sun-Fri-Sat-Sun) for two hours each day.
The course format may vary from place to place; please check with a center near you.
Eligible age to join the course: 14+ years