Come together for powerful meditation and thought-provoking dialogue with Gurudev Sri Sri Ravi Shankar, one of the planet's most impactful spiritual teachers and peace leaders.
What is Beyond Mindfulnes ?
A movement empowering us to do more of the things we love by going deeper into meditation. A powerful way to have it all, invented thousands of years ago. Refreshed for the 21st century.​
The meditation tour will see Gurudev address the greater power of meditation and the next level of wellbeing. The ease and depth of these events will resonate as much with beginners as with advanced practitioners. The tour will include Miami, Austin and Los Angeles.
Meet Gurudev
Renowned meditation guru, humanitarian and thought leader Gurudev Sri Sri Ravi Shankar has captured the hearts and minds of millions around the world through his meditations, breathing techniques and wisdom. He is an icon of non-violence and seeks global peace through service and fostering human values.
Gurudev travels to over 100 cities per year, spreading joy, wisdom and purpose. When asked his mission, he once said "to give everyone on the planet an unshakable smile." His expertise and success as a peacemaker in areas of conflict resolution, has been underpinned by his unique ability to bring people together through these practices. This was highlighted in March 2016 at the World Culture Festival - an event that celebrated 35 years of Sri Sri's organization the Art of Living, where 3.7 million people from 155 different countries came together, to celebrate peace and to meditate with Gurudev. Meeting Gurudev in person is a unique and often profound experience.
Event Highlights
At Sri Sri's Beyond Mindfulness US events, he will guide the audience through one of his much-esteemed meditations, silencing the auditoriums as thousands experience it live. The events will also include interactive sessions where audience members will be given the opportunity to pose questions to Gurudev and enjoy his profound and often humorous answers.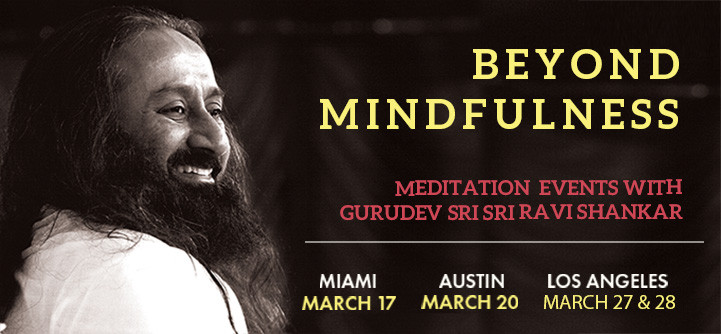 More info and tickets for these events:
Austin, March 20, 2017
Miami, March 17, 2017
L.A March 27 & 28