Get a glimpse of the breathtaking benefits of Art of Living's world-renowned breathing techniques.
Research-Backed Health Benefits of Sudarshan Kriya
Though reading 65+ research studies may excite some people, we figured a couple of you might prefer this infographic summarizing it instead.

Want all the geeky details? Click here for research charts, details and references.
Sudarshan Kriya Testimonials

Commonly Reported Benefits of Sudarshan Kriya
Physical health benefits of Sudarshan Kriya
Reduces stress
Improves overall health and well-being
Increases energy levels
Strengthens immune system
Reduces cholesterol levels
Mental health benefits of Sudarshan Kriya
Greater clarity of mind
Improves sleep
Enhances brain function 
Improves ability to manage challenging situations
Boosts creativity
Improved interpersonal relations with Sudarshan Kriya
More ease, joy and harmony in personal and work relationships
A deeper sense of community
Increases awareness of self and surroundings
Improves patience
Increases confidence and self-esteem
Psychological benefits of Sudarshan Kriya
Relieves depression (both clinical and non-clinical)
Reduces anxiety (both clinical and non-clinical)
Reduces PTSD with quick and long-term effects.
Spiritual benefits of Sudarshan Kriya
Enhances yoga and meditation practices
Experience a deep inner peace of mind
You can learn Sudarshan Kriya by finding an Art of Living Happiness Program near you.
 
Talk to a Teacher
Call us at (855) 202-4400 to speak with one of our experts about The Happiness Program and how it can benefit you in your life.
 
DISCLAIMER:
The Happiness Program is for overall well-being and rejuvenation. The information contained on the previous page contains results from research studies, many of which are based on an adaptation of the standard Happiness Program to special needs groups.The Happiness Program is not designed to treat or alleviate clinical symptoms. If you suspect you may have a clinical condition, consult your health care professional for treatment.
OUR FLAGSHIP COURSE
The Happiness Program
Don't settle for Happy-ISH
Popular Lifestyle Articles
free e-course
Yoga for Beginners
Yoga Pose Sequences
Breathing Exercises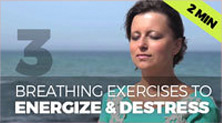 Guided Meditations