26 May 2016 Bangalore, India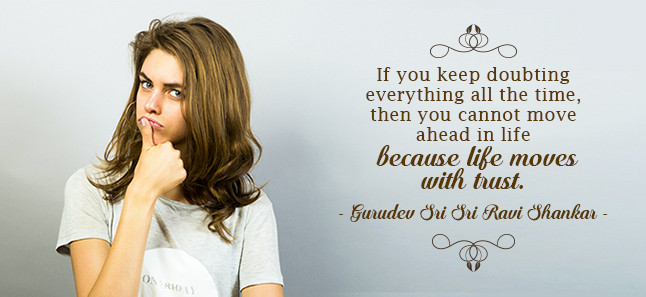 What is the true dimension of yoga?
Sri Sri Ravi Shankar:
Yoga is connecting with the truth. It is going beyond the constraints of the mind and connecting with what is, and that is truth.
I have a doubt about Lord Krishna's saying, 'Samshayatma Vinashyati'. Is Samshaya a reference to doubting or indecisiveness?
Sri Sri Ravi Shankar:
Both. Doubting is indecisiveness. When doubting gets rooted in you and you keep doubting everything all the time, then you cannot move ahead in life because life moves with trust.
You once said that there is no cure for the subtle ego. I am panicking now because I might have that condition. Is there hope or no hope?
Sri Sri Ravi Shankar:
There is hope, don't worry. Don't label yourself -- 'I am a very doubting person. I am bad. I am hopeless'. This sort of labels we put on ourselves is detrimental to growth. First, acknowledge you don't know yourself. That itself takes you to a different platform.
Nowadays, we see a lot of adulteration of food? What is to be done to prevent adulteration of food, grains and medicines?
Sri Sri Ravi Shankar:
That is the reason The Art of Living has started organic food and medicines. We had no intentions of starting any medicines before. Its only when we saw that the medicines available were not pure, we thought, why don't we do it? At the lowest cost, make the best medicine available. We started with this intention and not with any profit motive. That's why we are going very slow. Since a long time, we are very particular about the quality.
Is there any way to study spirituality scientifically? I want to do that.
Sri Sri Ravi Shankar:
Yes, spirituality is anyways scientific. What does science mean? Systematic, logical understanding which leads to something beyond the arena of the known. Here, science is exploring into the unknown through the known. Spirituality is exactly the same. That's why spirituality is where all religions connect and merge at one point.
There was only one Buddha but today, there are 32 sects of Buddhism. There was only one Jesus but today, there are 72 sects of Christianity. There was only one Prophet Mohammad and there are so many sects of Islam. And with Hinduism, you can't even count. So many sects are there.
The world is diverse. We must honour diversity. The people who say, "My religion is the best religion. It is better than yours", they are not scientific in their thinking. Something is basically wrong with them. This is the reason half the world is in the grip of terrorism because people think my religion is better than yours, and those people want everyone else to follow that religion. This is a problem. And what is the solution? Solution is to celebrate diversity, to see the common thread of all the religions. That is spirituality. This is meditation. It is not in conflict with anyone's religion, but it unites people across, and that is the simple thing that The Art of Living has been working toward for all these decades.
What made you come up with Shakti Kriya? What is the role of Shakti Kriya and Sudarshan Kriya?
Sri Sri Ravi Shankar:
They both have their different roles. Sudarshan Kriya is to do with the breath. Shakti Kriya just is to do only with the energy. But both of them bring completeness. One is a little more intense than the other at times.
In the Ashtavakra Gita, even after Janaka asserts his realization, why does Ashtavakra continue speaking?
Sri Sri Ravi Shankar:
For your benefit.
Why do we keep seeking love, even though we know we are love?
Sri Sri Ravi Shankar:
This is my question to you. You only know it intellectually. Perhaps, you don't know it existentially. Many times, we know it here in the head but we don't know it in the heart. And that's the reason we are unable to put it into practice because it is not part of our life.
There is something called Nidhidhyaasa. It means -- that which you thought, which you understood, which you meditated upon became part of you. Then, there is no looking back.