8 Jun 2015 Bangalore, India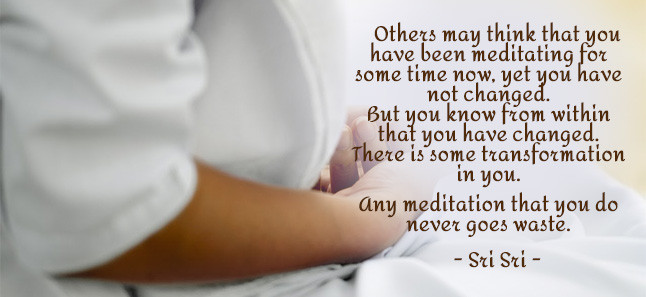 Gurudev, can one's basic personality or nature change by practicing sadhana and meditation?
Sri Sri Ravi Shankar:
The answer to this depends on what is your understanding of one's basic nature or personality. If you tell me that anger is your very nature, then I am not ready to believe that.
A person's essential behavior is determined by the three Gunas – Vata, Pitta and Kapha, and one's behavior keeps changing due to these Gunas. But the fundamental aspects of one's nature is the same for everybody, and that is – creativity, enthusiasm, joy, and living in harmony with everyone. These are constant for everybody.
Life is a mixture of things that are constant and things that keep changing dynamically. We can never say, "Everything has changed", and we also cannot say, "Nothing has changed". Life is a mix of the two. So some things in us can change and some cannot – and we have to accept them both.
Suppose your height is five feet. Then once you turn 21 years old, your height is not going to change. But your weight can increase or decrease, whatever your age may be. You may weigh 70 kilos or even 100 kilos. Life is a delicate balance between that which is constant and that which is capable of changing. By Sadhana, your basic nature gets strengthened and more established, and that which can be changed undergoes change much faster.
Gurudev, where is the fulfillment in life?
Sri Sri Ravi Shankar:
Fulfillment in life lies in knowing what life really is.
If life is a dream, then what is reality?
Sri Sri Ravi Shankar:
Who said that life is a dream? Whatever has happened in the past till this very moment, is nothing more than what remains in our memory, and our memory is no different than a dream. If you see everything that has passed in life from this understanding, then it all really appears as a dream. The moment such knowledge dawns upon you, something stirs and awakens within you – and that is awareness, that is Prajna (awakened intellect) . All these practices that we do are only to bring ourselves into that state of awareness, nothing more.
Gurudev, how do we come into a state of surrender or non-doership?
Sri Sri Ravi Shankar:
Stop thinking and trying to differentiate too much between doership and non-doership. Whenever you do anything, just do it 100% and be totally immersed in it with all your heart and mind. And once the work is done, you must also take equally deep rest. What do we usually do? When we are resting, then too we go on thinking about what we have to do, and when we are working, we keep thinking, "Oh! There is so much work. I need to rest. I need to rest". When you work this way, then you can neither work properly, nor are you able to take proper rest. So you lose out in both aspects.
Gurudev, I am unable to control my anger even after meditation. What do I do?
Sri Sri Ravi Shankar:
Go deeper into meditation. Practice more pranayama. It is impossible that your anger does not quieten down after meditation as well. And if you still feel that your anger does not subside after meditation, then you should start observing yourself very carefully.
Earlier when you used to get angry, your anger would last for a long time. If you have started meditating very recently, then you would have noticed that anger still comes, but it subsides quite soon as well. In a matter of four to five minutes your anger disappears, isn't it so? If yes, then you should see it as a big step in the positive direction.
When you felt angry in earlier days, when you did not meditate, your anger would last for hours, days, months or perhaps even a year. But now that you have started meditating regularly, anger does not stay for long. Why is this so? It is because when anger comes, that moment the attention shifts to the breath and you remember your breath – and this helps to regulate your anger. The experience of past meditation immediately takes you back to a calm and serene state and stops the anger midway itself. Has it happened this way or not? How many of you have had this experience? (Many in the audience raise their hands).
See, others may think or say that "He has been meditating for some time now, yet he still gets angry". But you will know from within that you have changed after meditation. There is some transformation in you. Any meditation that you do never goes waste.
Knowing that everything would be finished one day, makes me feel very disturbed. How do I come out of it?
Sri Sri Ravi Shankar:
The temporary nature of things around you should enable you to calm down, and settle in deeper within yourself. It is good if it disturbs you, if it wakes you up from your slumber (of ignorance). But I tell you, hold on to it and go deep within. You will find that a higher horizon opens up within you where you feel invincible; where you will experience that you are not this finite body but rather you are the infinite consciousness.