9 Jun 2014 Bangalore, India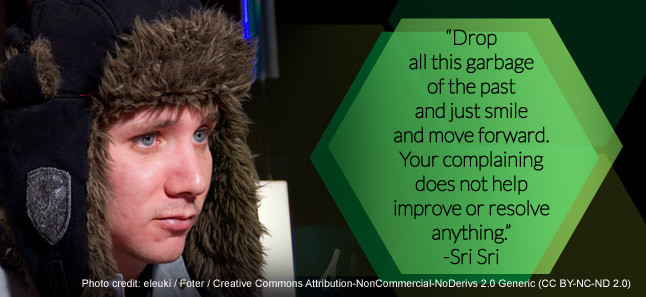 (Below is a continuation of the post Your Talents Are For Others!)
When we are children, we complain to our parents. When we go to school, we complain about our teachers and our friends. When we start working, we complain about our boss or our colleagues at work. How does we get free from this habit of complaining all the time?
Sri Sri Ravi Shankar:
That's it! Once you have realized and become aware of this tendency about yourself, then just know that you are out of it.
A complaining mind usually complains about things that happened in the past. When we do not look forward to the future with a positive mind set, and when our Prana (life force energy) is low, then our mind tends to get entangled with the events of the past, and it starts to regret or complain about them. That is why the wise ones around us who have foresight encourage us by saying, 'Drop all this garbage of the past. Just smile and move forward. Your complaining does not help improve or resolve anything'.
Gurudev, these days there is a sitcom being shown about Lord Buddha on the TV. In that, they have shown that the King of Magadha (a kingdom in ancient India) and his Vedic priests had plotted a conspiracy against Lord Buddha. Can you please tell how true this is?
Sri Sri Ravi Shankar:
See, it is quite possible that they may have conspired against Lord Buddha. But at the same time, many Brahmins also became the disciples of Lord Buddha. And if you watch or read further, you will come to know that his own brother and some of his disciples actually tried to attack him as well.
The people who make these sitcoms actually add more drama and extra spice to these stories to make them popular and increase the viewership, and to also kindle some emotions within you. But there is absolutely no need for you to believe these stories as they are portrayed.
Many times the directors and producers show the epic and historical battles by distorting many facts. So it is very difficult to say what part of the show is genuinely true, and what is just make-believe.
It has been more than 2500 years since Lord Buddha walked the earth. There have been so many versions and tales written about His life and his nature, time and again. It is very difficult to comment upon how much of what is shown on TV is true, and how much of it is just imagination.
Some people have written these things out of ignorance and little knowledge. In some Hindu scriptures like the Mahabharata, it has been written that it is a great fortune to die under the foot of an elephant. In some, it is forbidden to enter a Jain temple.
The Jain temples have been made very beautifully, with a lot of decoration, carvings and sculptures of Lord Mahavira, and were very attractive to those who visited them.
The idols were decorated with different jewels and precious stones, and people visiting the temple would make various kinds of offerings. People naturally would get attracted to these temples and visit them. To discourage this, someone out of ignorance added to the texts of the scriptures that it is better to die by falling under an elephant's foot than to visit a Jain temple. These are all baseless things.
Similarly in Buddhism, it is preached not revere Lord Shiva. The Buddhists pray to Lord Avalokiteshwara instead.
The Buddhists have created replicas of the male and female demigods that we have in Hinduism, with very similar forms and imagery, but with different names.
Some people have even shown in paintings that the demigods in Buddhism have vanquished the deities revered in Hinduism by defeating them in battle. By making up such false stories, they conspired to make one religion go against the other; to establish it's supremacy over the other. But these kind of gimmicks did not last for long because people are very intelligent and found out the truth.
There were such harmonious relations between the Hindus and Jains, and there was never any disparity between Hinduism and Buddhism in the past also. Even though some people did try to create an atmosphere of conflict, but they never succeeded. Why is this so? Since the ancient times, there has been such strength and stability in the Vedic tradition which has always helped in bringing people together so that everyone moves forward and makes progress together.
Gurudev, I have been continually unwell since a very long time and have suffered numerous accidents in the past. I am not able to bear so much pain. What do I do?
Sri Sri Ravi Shankar:
Listen, if you had really been so unwell, then you would have never been able to come here (to the Ashram).
We never notice how healthy we are. Rather we keep focussing on the small diseases and problems in life and become miserable. It is not possible that someone can be unwell all the time, or since birth. If that were the case, then such a person will not be able to come all the way here and speak during the satsang. So do not think that you have had to take a lot of trouble to come here. You are already very healthy and are smiling too. You need to bring a change in your mentality, and your outlook in life.
See, the body has its own limitations but you must be strong in your heart. Sometimes in life you may suffer pain, or some disease, or meet with an accident. That is the nature of the body, and it is alright. Continue doing your seva, sadhana and satsang and everything will be alright soon.
This is why we have kept all types of facilities in the Ashram, to sustain and boost a person's health, whether it is through Ayurveda, or the other techniques that we have that can help relieve the body from illness. The main point here is that you need to keep your mind healthy and happy.
Gurudev, how can one achieve all the four aspects of Purushaartha – Dharma, Artha, Kaama and Moksha?
Sri Sri Ravi Shankar:
Both Artha (wealth and material comforts) and Kaama (desire or passion) arise in life from time to time according to one's needs. Fulfilling those needs to sustain one's life, yet not getting entangled in too much greed or lust is the responsibility of Dharma (righteous action) and Moksha (liberation from suffering).
The main goals of our life are Dharma and Moksha. In the course of our life, from time to time, we have to engage ourselves in the pursuit of Artha and Kaama. Enjoying them but at the same time not getting caught up in it. This is why we should engage in those action that are in alignment with our Dharma, and refrain from those actions that go against Dharma. The same goes for Artha also.
Life cannot run without any one of the four aspects of Purushaartha.
In the course of life, you must have Moksha as your supreme aim; adhere to and uphold Dharma at all times, and you will see that your pursuits for both Artha and Kaama will also give good results in due course of time.
Gurudev, if my soul is thirsty for love, peace and contentment, then why do I find excuses not to do my sadhana?
Sri Sri Ravi Shankar:
Yes, I would suggest that you reflect upon this question yourself. Then you will realize that you are making excuses to take your medicine (here indicating sadhana) which are for your own good.
This is like going to the doctor to get medicines, but going off to sleep and keeping them under your pillow instead of actually taking them.
Why do we make excuses or skip doing something that brings us so much peace and contentment? I also have this question for you.
Gurudev, if I ever have to ask you for something, please tell me what is it that I should ask of you?
Sri Sri Ravi Shankar:
Come on, now do I have to tell you this too? You are anyway getting everything in life without asking or running behind it, right? So just relax.