21 May 2015 Bangalore, India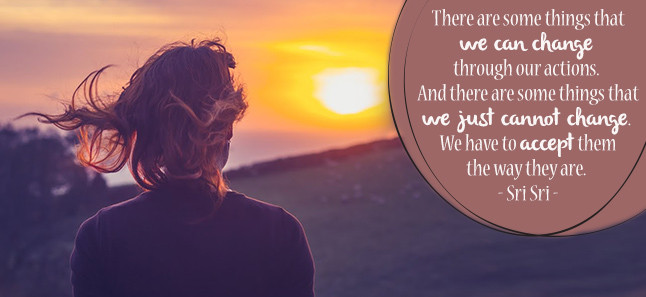 Gurudev, Astrology is regarded as the eyes of the Vedas. Does our life really depend on the position and movements of the planets and stars?
Sri Sri Ravi Shankar:
Every particle in this Creation is related to us and our life. So it is not just the stars on the screen (here jokingly referring to movie stars), but all the stars, planets and other heavenly bodies have an effect on our lives.
It is said that the whole Creation, right from the smallest atom to the subtlest Mahat Tattva (a fundamental principle of existence said to be far subtler than the Ego) is all connected and strung together by a single thread.
Scientists today say that, when a butterfly in South America flutters its wings, it affects the clouds hovering over China (implying a deep level of interconnectedness). So in this way, the whole world is one. Our ancestors and rishis (wise sages) also used to say that when you perform a Yajna (sacred fire ritual) here, the vibrations and effects will reach everywhere. When you pray then your prayer has the power to move the whole world.
So this is true. But do not misunderstand this and take a fatalist view of everything around you, thinking that everything is already pre-destined and you have no choice but to endure your fate. Do not think that you have no freedom. Life is a combination of destiny and free will. There are some things we can change through our actions, and there are some things that we just cannot change and we have to accept them the way they are.
For example, after the age of 17-20 years, your height cannot increase any further. If you are five feet tall at that age, then that is what your height is going to be. Your height will not increase thereafter. But your weight can increase or decrease. So if you have gained 100 kilos in weight, you cannot say, "Oh, this is my destiny. What can I do?" Of course you can reduce weight. But you cannot change your height. The same is the way with life also. There are many things that we can change, and many things that we cannot change. So the planets and stars definitely do have their effects on our life, but we can stop or even prevent that. This is why the unique number of 108 has been prescribed when it comes to chanting.
There are nine planets and 12 zodiac constellations. When these nine planets move through the 12 zodiac signs, they can create 108 different kinds of effects in our lives. In order to save ourselves from any ill effects of those vibrations, we chant Om Namaha Shivaya.
When we chant Om Namaha Shivaya, it forms a protective shield around us and saves us from these effects.
Gurudev, it is said that whatever we are is what we attract. I keep attracting dishonest, restless and non-peaceful people, while I myself am an honest and peaceful person. Why is this so?
Sri Sri Ravi Shankar:
If you see that they are like that, then you should just be centered, that's it. Do not get swayed in the same direction of their negativity.
It is quite natural, but all these are occasions for you to reflect and look at your own strength to be more centered. If you can help them, you should help them out, that is good. But do not get lost or caught up in their thought patterns and emotions. That is very important.
Gurudev, what is the best way to forgive somebody?
Sri Sri Ravi Shankar:
When you want to forgive them, then you have already forgiven them. There is no other way then. It is already done.
When can you really forgive someone? You can forgive someone when you see them as a victim. Every culprit is also a victim. If you only think of someone as a culprit and that they deliberately did something wrong, then you will never be able to forgive them.
How much sadhana is required to convert bad karmas into good karmas? How can I know that the account has been balanced?
Sri Sri Ravi Shankar:
Unfortunately no one has here has done the auditing of these (karmic) accounts (laughter). Perhaps Chitragupta (a Hindu god assigned with the task of keeping complete records of actions of human beings on the earth) would be able to tell you this once you leave the planet.
There is a saying in Hindi which means – Forget your deeds once done – whether punya (good deeds) or paap (sinful deeds), just drop them all.
What use is it to keep an account of your actions? Just do your duty without worrying about the fruits of your action.
Gurudev, why doesn't God give us some kind of visible indication of a suitable life partner, like smoke coming out from that person, etc.? Why do we have to invest our time and emotions in a person to find out?
Sri Sri Ravi Shankar:
Well, I think the smoke comes afterwards! (Laughter) So first there is fire, and then the smoke comes later on. Someone who wants to be your partner may also want the same thing. So they too maybe are looking for a similar indication from your side. I suggest you better not be fuming when that happens (Laughter).
Gurudev, who made the rainbow?
Sri Sri Ravi Shankar:
Well, the rainbow is made by the sun, the rain and of course – you! Only because of where you were standing were you able to observe the rainbow. If you move somewhere else, you cannot see the rainbow. So for the rainbow to exist, you have to be there, the raindrops have to be there, and the sun too has to be there. But you are more important.