2 May 2014 Rome, Italy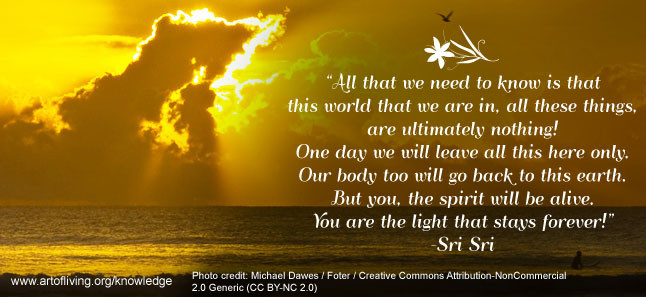 Today is celebrated as a very auspicious day in India. It's called Akshaya Tritiya. It is related with many stories. One of the stories is that, on this day the Ganges (a holy river in India) came to Earth to purify mankind.
It is also associated with two instances of Lord Krishna.
What happened is, once the five Pandavas, (the five brothers from the Mahabharata epic) and their wife were in exile. At that time a saint called and said, 'I am going to have food with you.'
When the message came, they had no food. They had already had eaten and had kept their pots away. The lady, Draupadi (the wife of the 5 Pandavas) prayed to Lord Krishna. At the same time, Krishna came to their house and said, 'Oh I am very hungry.'
When he came in, he saw that there was only one grain of rice stuck to the pot. He picked that one grain of rice and ate it, and turned the pot into an Akshaya Patra. Akshaya Patra means that which never finishes.
When the saint came with 400 people, Draupadi could feed all of the who came from the same pot. The more she took from the pot, the more would come from it. It would never go down.
So it is a common expression in India to say, 'This is an akshaya patra', which means it always keeps giving.
If people are very generous and they are always doing seva and contributing to other, then you say, 'This is an akshaya patra', means it never goes down; a perennial source.
A magical pot which keeps feeding millions - like our ashram. In one year we cook 385 tons of rice.
The other story is, Krishna had a friend who was very poor. His name was Sudhama. Sudhama means a good place, or a very benevolent place.
So, one day his wife said, 'We are living in such poverty and Krishna is so rich. Why don't you go and get something from him. He is such a close friend.'
Sudhama said, 'Okay, I'll go, but I can't go to a friend empty handed. I have to take something'.
So his wife packed three handful of puffed rice in a scarf and gave it to him. It is like rice crispies.
When Sudhama goes to Krishna and Krishna welcomes him, and washes his feet. The story goes that they were such good friends and in the friendship there was so much love that Sudhama forgets to give the rice to Krishna and also forgets to ask him for anything. He came to ask him for a favor but he could not ask him anything because he was so overwhelmed with love. They were so close that he forgot to ask. He could not ask. He could not even speak.
When he was about to leave, Krishna asked, 'Hey, you have brought me something? Give it to me. I know your wife has sent something. Why are you not giving it to me. Come on, give it.'
Krishna took the rice and he ate one handful, then he ate the second handful, by that time his wife Rukmini came and said, 'I want to take the third one'.
While all this was happening, Sudhama left without asking him for anything. When he reached home, he found his house flooded with riches and gold. That's the story.
So, people today buy gold and they gift each other. Today if you get anything, it will always grow. You gift, or you buy, it all grows. That is the belief. Like that there are some more stories also. But right now this is good enough.
Every day is a celebration! All that we need to know is that this world that we are in, all these things, are ultimately nothing! One day we will leave all this here only. Our body too will go back to this Earth. But you, the spirit will be alive. You will rise up because you are eternal.
Nothing is impossible. Not only spiritual upliftment, even material things can flow when the devotion is very strong. That is the essence of this story.
Devotion means what? Just that strong conviction that the Divine loves me, and I love the Divine. You don't know what the Divine is, where it is, but it is there. The intelligence which is managing this whole universe form billions of years.
We are all here just for a few years, but the world remains for so many millions of years. The trees are there, the birds are there, the clouds are forming, rain comes, Sun is shining. This whole phenomenon is happening since billions of years. In another 40-50 years all of us will be gone, but this whole thing will continue. That is the Divinity.
Everyone is a ball of energy. Do you know how much electricity one individual has? You can keep Rome lit for a hundred years. That much electricity one person has.
Entire Rome city can be lit up if energy in one person's body is used. That much energy we have, but we have never utilized or realized it.
There are so many light here and there's electricity also. But if the switch is off, the room will be in dark. You should turn the switch on. Similarly, our energy can move up. That is what is called sadhana, satsang and seva.
I was wondering if this day happens every year?
Sri Sri Ravi Shankar:
It is every year. Akshaya Tritiya is the third day after the new moon. Fifth day after the new moon is when Adi Shankaracharya was born.
That is why my parents also kept my name Shankar, because I was born on the same day.
The main knowledge of Adi Shankara is only one thing, everything is perishable. Thoughts come and go, feelings come and go. One day everything disappears. But you are the light that stays forever.