Question & Answers with Sri Sri Ravi Shankar

Q: Gurudev, Do we get this human life only once? Have we come to this birth after being born as all other creatures?


Sri Sri Ravi Shankar:
It is more important to be aware that you are born as a human in this birth. You are also here and I am also here. You do whatever is possible and see that you complete your journey in this birth itself.
Q: Gurudev, How to draw the line between not being a football of other's opinion and also listening to them? Isn't it also important to listen to other's opinion?


Sri Sri Ravi Shankar:
Yes, it's like a riding on a bicycle.
Q: Gurudev, Guruji, in life we see good people suffering a lot. It seems God is hard on the good people. Why?
Sri Sri Ravi Shankar:
No no, it only seems so. It's not real. A person who seems successful and happy despite doing wrong actually is restless in the heart. He can't sleep peacefully, can't eat with joy and his fall will be greater than his rise. Have faith that if I am doing good, then good only will happen. If you think otherwise, it is an illusion. But being good doesn't mean one should be stupid, use your intelligence. One's heart should be clean.
Q: Gurudev, What question should I ask?
Sri Sri Ravi Shankar:
My dear, you are asking me to tell you question also! Is it your New Year resolution not to use your brain come what may? You want to borrow even questions! No way. The questions have to be yours. It's not school where they give you questions and you give answers. Here you have to come up with the question. And you don't have to; if it comes up in you then that is your question. Nobody can tell you what question you should ask, what you should prayer for or what you should seek. It is a spontaneous outcome from within. Need is not to be dictated by somebody or anybody. Need is that which arises from within. In reality when you come in this energy all questions in you disappears.


Q: Gurudev, Guruji, in your company we feel as if Vrindavan has been created here and now only. But when we move out in the world, entanglements cling on to us again. How to be free from that?
Sri Sri Ravi Shankar:
Keep coming again and again. Have you noticed that the entanglements do not cling on to you with the same intensity as it used to be earlier? That grip is loosened. Gradually, when you become more centered, those worldly things do not distract you anymore.


Q: Gurudev, Is it ok to be driven by emotions?
Sri Sri Ravi Shankar:
The difference between a human and a stone is that, humans have emotions. When feelings are combined with wisdom, then that is good. It's like when water flows between two banks, we call it river. But if water is scattered all over the place, then that is flood. In life, along with intellect, feelings are also to be nourished. To maintain a balance between intellect and emotions is wisdom.


Q: Gurudev, Which is the energy centre in our body?


Sri Sri Ravi Shankar:
There is energy centre in every cell of the body. Heart, mind, everything is an energy centre. The whole consciousness is a manifestation of energy.
Q: Gurudev, Does the master find disciple or disciple finds the master?
Sri Sri Ravi Shankar:
How does it matter whether you find master or the master finds you? It is sufficient that both have met.
Q: Gurudev, How can we know if our devotion has fully matured or not?
Sri Sri Ravi Shankar:
Don't worry about if your devotion is matured or not. Know that devotion is there. Never think that you don't have devotion or you lack devotion.
Q: Gurudev, What is the importance of bathing in Ganges especially during mahakumbh?
Sri Sri Ravi Shankar:
it is believed to be good to have a dip in the ganges. However, taking a dip in knowledge is even greater for it purifies the mind.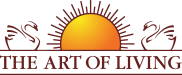 Founded in 1981 by Sri Sri Ravi Shankar,The Art of Living is an educational and humanitarian movement engaged in stress-management and service initiatives.
Read More