Question & Answers with Sri Sri Ravi Shankar

Q: Gurudev, Is memory a blessing or curse?
Sri Sri Ravi Shankar:
Forgetting bad things is a blessing. Forgetting good things can be a curse.
Q: Gurudev, Dearest Guruji, today, I learnt courage from you. I often thought that you were a scary and angry person. But I found so much peace in you. I am afraid what if I lose you.

Sri Sri Ravi Shankar:
You can't lose me, and I can't lose you!Our mind projects our feelings on others. This is what happens most of the times. Sometimes people ask me if I am angry at them. They say that I didn't smile at them or talk to them in crowd, and comprehend that I am angry at them. But why would I be angry at them? There are so many people in crowd. I smile at some, and pass a bigger smile to them who have a long face so that they also smile. But smiling at some doesn't mean I am angry at others. Many times we project our own emotions on others, especially when we love someone. If you are angry or upset at others, you think that others are angry and upset at you. Here knowledge of the self is so important so that you can have a balanced perception. With the knowledge, you know what is happening inside you, and you know what is happening inside of others. That clarity of perception, observation and expression can only come through meditation.

Q: Gurudev, There are quite a few questions about how do I feel more connected with you or how do I feel the connection. Sometimes, I don't feel the connection to knowledge or to you or to myself. These types of questions are there, couple of them in my mind.
Sri Sri Ravi Shankar:
Certain things you should take for granted. You should feel that you are connected. Are you connected to air? Do you say, again and again, is there air around me? Am I breathing or not? Is there air around me? My dear, there is! Is there a sun in the universe? There is! I don't see the sun. If there is no sun, the earth would not exist. If it is not visible now, it is visible another six hours later. Or eight hours later - it will come to the horizon. In Norway, you'll not see the sun for two months. That doesn't mean it has disappeared from the surface of the planet. Similarly, your connection, your love is always there. Sometimes you feel it. When a cool wind blows on a hot summer's day, it gives you certain elevation. It gives you a contrast. You were not connected, suddenly you feel connected. So this feeling of being connected often happens in contrast. Especially when you didn't feel connected, suddenly you feel the connection, you feel that contrast.
For knowledge, you have to have the opposites. When you don't feel the connection, know that you are already connected. Don't look for it. You see what I am saying? Okay. Move away from all the principles of the Art of Living. Drop your pranayama, meditation, singing, everything for one week, 10 days. Then you will see. You will feel the thirst. All this knowledge will pop up in your life time and again. Wisdom once learnt remains with you like a solid rock. You can't get away from wisdom. Still try to get out of it for sometime and see. Then you'll notice the connection. Sometimes astrologically, cosmologically, the sense of lack of enthusiasm, interest or spirituality or sort of dullness creeps in life. Vedic astrology speaks about a particular time in one's life where this could happen. But it is only for a short period of time. Especially they say, when the Jupiter is at the lowest energy, the spiritual energy in the world goes down and people become more gross. You don't feel uplifted, elevated. But it's only a short period of 11 months or even shorter. The Christian tradition speaks about the dark night of the soul where a spiritual seeker suddenly finds that all that he has been doing is useless or has not taken them any further. This type of a feeling had dawned in Mother Teresa also.
In Patanjali Yoga Sutras, it is explained how to overcome such obstacles in the path of Yoga. These are the nine obstacles you can get – doubts will come. Self doubt, doubt about the teacher, doubt about the knowledge, the path and then some or the other ailments come. You'll be fine. When you want to do is some practice you'll get cold, cough, fever, this and that. Some physical discomfort, disease or mental dullness can come over you. These sorts of nine different types of obstacles to get perfection are also part of the knowledge, part of the path. But no obstacles can stay forever. They all come for a short time and they go, they disappear. So don't keep looking whether I am connected or not connected. When you feel a sort of vacuum, lack of love, lack of enthusiasm or the initial high or joy you felt suddenly disappearing somewhere, just smile and be centered. You will see this wind just blows and then the sun rises back again. The sun is always there. It will be visible just in the matter of time. In the same way, your connection with your Self, with the teacher, with the universe is all intact. It will just blossom once again.
Q: Gurudev, What is the benefit of Mantra japa?
Sri Sri Ravi Shankar:
Mantra japa definitely benefits you. Mantra increases mental power and energy. The seed mantra 'Omkar' is common in all Indian religions- whether it is Jainism, Buddhism, Hinduism, Zoroastrianism or Sikhism. You may chant Om Namah Shivaye.
Q: Gurudev, How can senior management get the most out of their teams for maximum performance?
Sri Sri Ravi Shankar:
The Art of Living Foundation teaches the APEX course in corporate environments. It has been appreciated all over including the World Bank.
Q: Gurudev, How can we strengthen the faith?


Sri Sri Ravi Shankar:
Your very thought to strengthen thefaith strengthens it. Move ahead assuming that your faith is very strong. Whenyour intellect is purified, faith automatically gets strong. We should have apure diet in order to purify the intellect. So, pay attention on your food. Ifyou eat food thinking all sort of negative things in the world, that alsoaffects the intellect. Many times people get time to converse only duringmeals, and they discuss about topics like diseases while preparing and eatingthe food. This is very wrong, and we need to get rid of this habit. You becomewhat you eat. The type of food you take governs your mind. And again your mindhas a direct impact on your body. That is why you should eat food with a happystate of mind. If we are very excited, we cannot swallow food with ease. Alsoif we are restless, we end up eating more food. So, it is important to havefood with awareness.


Q: Gurudev, I have finished my final year engineering exam. I want to study, I want to pursue higher studies, but I cannot concentrate when I sit to study. I want to study, what should I do?
Sri Sri Ravi Shankar:
If you are not getting concentration in your studies, watch for these three things
(i) Your diet, watch what you are eating. Diet makes a big difference.
(ii) Do you do any physical exercises? If you just keep sitting on a couch watching TV, or keep sitting on computer with internet etc. then the circulation is less in your body. Then you tend to become lazy and will not feel like studying. So, it is necessary to do a little bit of physical exercise, yoga, pranayama, meditation and also participate a little in singing etc. Doing all these, whatever is the need for your system will be furnished, and then you can grasp more in studies. Also your learning and retaining capacity will increase, and you will be able to study as well as gain much more in shorter time.
Go for higher studies if you want to. Choice is yours, blessings are mine!
Q: Gurudev, What is the place of thought in a free mind?

Sri Sri Ravi Shankar:
Where does thought come from? It comes from a free mind or an un-free mind? Thoughts are not free. So, you have answered the question. Free your mind of thoughts for a few moments. When astonished, shocked, in deep love, samadhi, meditation or deep sleep, your mind is free from thoughts. You get energized then.

Q: Gurudev, How can I feel your presence in my everyday life?
Sri Sri Ravi Shankar:
You already feel it, no?
Q: Gurudev, How do we remember the Divine in every breath?
Sri Sri Ravi Shankar:
The Divine is not so sub-standard that you will 'have' to remember Him. Remembrance happens. Don't make an effort to remember. You have to remember something when it has not touched your heart. When the heart is kindled then you don't have to make an effort to remember that.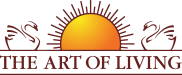 Founded in 1981 by Sri Sri Ravi Shankar,The Art of Living is an educational and humanitarian movement engaged in stress-management and service initiatives.
Read More