Question & Answers with Sri Sri Ravi Shankar

Q: Gurudev, My husband is very arrogant. How do I reduce his arrogance?
Sri Sri Ravi Shankar:
Ok, make your husband's arrogance very strong. Say, 'There is nobody like you.'
Keep increasing his arrogance.
Wherever there is arrogance, it will be taught a lesson.
Q: Gurudev, We crave for the pleasure of the senses, personal gain and power. Do cravings drop one at a time or all together?
Sri Sri Ravi Shankar:
Sometimes cravings dissolve one at a time, sometimes all together. As soon as anurag(devotion) is born in life, everything else is dropped. When there is love and devotion you will see that all the negativity is removed on its own. When the satva is increased in life, attachments and aversions due to rajoguna, tamguna are themselves removed. For some, it happens slowly and gradually and some undergo misery and then drop it. They drop it because of misery.
Q: Gurudev, Dear guruji, This might sound like a silly question, but I don't understand money at all. Can you explain it to me? How important is it? Thank you for having me here.

Sri Sri Ravi Shankar:
It is said in the Vedic literature, Dharma is righteousness. Then comes artha, which means- the means, money. And then Kama, desire. And then liberation, moksha. So, Dharmasya moolam artha. That is, righteousness is based on prosperity. If everybody is prosperous, nobody will steal anything. The root of dharma or righteousness is prosperity, is money. So, it is all linked. Money is important, but money is only the means. It is not everything.
Never link money with happiness. Even the poorest people are happy, if you see. In fact they are more happy. But money can create a false notion of security to you: You think if you have money, you have everything. The idea of money is for comfort. Isn't it? Why do you want money? For comfort. But money can give you only one type of comfort.
There are three types of comfort: Physical comfort, emotional and mental comfort, and spiritual comfort - the inner comfort. Whereas money provides only one type of comfort, it doesn't give emotional and spiritual comfort. It is essential. Like, we all eat to live. But if we live only to eat (laughs), then something is very wrong with us. Basically wrong.
Scriptures and ancient people beautifully describe how to make best use of money. You make five equal portions of the money. You use one portion for yourself, you save twenty percent, you use another twenty percent for your family, and immediate needs, and you make use of one portion for the society .One is called Aapad dhan. It is for emergency, for any need in the future. And there is another school of thought which says you spend 10 percent on charity, you save 30 percent, and you use 60 percent the way you want.
I would say, you don't need to spend even 10 percent on charity. Keep aside at least 2% or 3% of your income. If you don't do charity at all, your money will be spent on court cases and on hospitals. You keep aside 2 – 10 percent for the world. Then the greed will not happen in our mind. Greed kills the person and then kills his business also.
But ambition is ok. You should have ambition. You should aspire to create more wealth. Creating more wealth is not a bad thing at all. So, that balanced attitude for money must be there. Money should not be everything in life. It should be to sustain, and to give you physical comfort. And it's only spirituality that is absolute comfort. When you are connected with the divinity, mental and spiritual comfort is there, you don't even think about money. Things come automatically.Next year, this ashram will have completed 20 years. Before we had this ashram in North America, we used to hire places here and there. So many people used to come, and we needed our own kitchen for vegetarian food. It was difficult to have advanced courses in hotels here and there.Then I said that the next time I come, we should have a place where we can keep the atmosphere pure, where only meditation happens and where the vibrations of the place become more saatvik, more congenial and more in harmony with nature. Then some of our devotees went around and looked at places, but we didn't have that much money.
First we put up some tents, and all the tents flew away. It rained. They had a kitchen here and wooden things. Everyone started doing a little bit here and there, and the place became beautiful. So, the whole place come up in some time.This is what is called siddhi. Siddhi means you get what is needed. In India, there is a proverb which says you really wished for nuts and it came to you when you lost all the teeth (laughs). You were praying for nuts, 'Oh, I need nuts, I need nuts, I need nuts.' And then when you got nuts, all the teeth were gone! That's no use. You are praying for husband or wife, and they appeared when you are 75! It makes no sense!
We never ever worry for how things will be done! This is what is siddhi. When the spiritual power is there, spiritual energy is there, everything happens effortlessly. Move with faith and confidence. At the same time, don't live too much in the air. Be a little practical also. Till you get to that level of spiritual inner dependence, you have to have the reasoning. Reasonably, you should be aware of how you should manage funds.
So, it's like dance. How dance will happen? When one foot is on the ground, and one is up. If both legs are buried in the mud, can you dance? And if both feet are in the air, then also you cannot dance. You'll fall. So, dance happens when there is one foot on the ground, and one up in the air. This is what is whole knowledge – practical yet ethereal, spiritual in approach. But I have seen some people who are too ethereal. They don't do any work but they simply sit, 'I want 20 million dollars, I want 100 million dollars.' They don't even think about small numbers. (laughs) They Pray for it every day. Nothing is going to happen that way also.Know that balance.

Q: Gurudev, Dear Guruji, Guru Gobind Singh made warriors, each one of which was capable of handling many negative powers. What is your vision for the warriors that you are polishing?

Sri Sri Ravi Shankar:
First, we are to fight against the evil of ignorance. There are so many problems in the society today – corruption, exploitation of environment, starvation, powers opposing spirituality, and anti humanity powers. These all have to be defeated.

Q: Gurudev, Guruji what is one such thing that is beyond Asakti (attachment) and Anasakti (detachment)?
Sri Sri Ravi Shankar:
Me! (Huge laughter)
Q: Gurudev, What if you give a promise and then take it back?
Sri Sri Ravi Shankar:
It is not the promise which is important. What is important is: what is best for ever body, for all human beings. Suppose you have promised your daughter to take her skiing but if the weather forecast says that there will be a snow storm, what will you do? Will you take her out because you promised or will you be intelligent and say, "The promise will not bring happiness now, so I take back my promise and not take you there now".
Q: Gurudev, What is the one quality that you need to have to love everyone alike?
Sri Sri Ravi Shankar:
An ease with yourself and everybody, simplicity. When you are open from within, then you can't but love everyone and everyone can't but love you. Neither you have a choice nor do they. You have done this as a baby. Do you remember how you were as a baby? Being natural, simple, innocent, without any barrier and free with everybody.
Q: Gurudev, I am bullied by friends I don't know why. If I hit back it becomes worse. And if I keep quiet then I'm considered weak.
Sri Sri Ravi Shankar:
When there is no question, then what is the need of the answer? Drop your questions, your doubts.
You all are extraordinary. Just bear one thing in mind, that you take interest in knowledge. Read a bit of knowledge. Everyone must read the Bhagvad-Gita, the Guru Granth Sahib and the Yog Vasishta. Read one-two pages of the Yog Vasishta everyday. Like you watch television everyday? In this manner, make it a habit to read a few pages of knowledge. When you wake up in the morning, read a knowledge book.
Just as water that doesn't flow, stagnates, the mind needs to gain knowledge from books from time to time so that it doesn't stagnate. If the mind is not polished with knowledge, it will not shine. So get a little bit of knowledge everyday.
Be in knowledge. Have fun. Knowledge, singing and meditation. Have these three aspects in mind. Spend some time to gain knowledge in the morning.Read two-three pages everyday. Read the Bhagvad-Gita, Yog Vasishta. And in the evening, sing some bhajans. Enjoy it thoroughly. Sit for some time in meditation. In satsang, it is important to sit for a while in meditation.
Practice meditation. Become a seeker. Walk the path of the seeker. You will get the best of everything the world has to offer. It is important that those on the path of knowledge consider themselves fortunate. They, in turn, should give this good fortune to as many people as possible. We shouldn't limit the happiness to ourselves: we should extend and help everyone have a taste of the same.
So remember: singing, knowledge and meditation. Did you turn the pages of a book today or not? Did the water flow or not? Yes? Just as flowing water remains clean, when you turn the pages of a book of knowledge, your mind remains clean and pure. And meditate everyday for a little while. Do Sadhana. And remember that when you become a seeker, you will lack nothing. When you walk on this path, there will be no lacking in your life. And whenever you are in trouble, you are not alone. The Divine is with you.
Don't scatter yourself too much. Be centred and collected. And walk with ease. You don't have to put too much effort. Yes? See how easily we can collect flowers. Similarly, there is nothing difficult.
There is bliss in chaos. Bliss and chaos go together at home! We have to take everything and move forward.
Q: Gurudev, How to attain the power of vision that Sanjay had in The Mahabharata?
Sri Sri Ravi Shankar:
By being centred. When you experience the depth of meditation then naturally you get knowledge. There is no effort involved, no roting of scriptures is required.
Q: Gurudev, How to deal with attachment on the spiritual path?
Sri Sri Ravi Shankar:
When you are aware of the attachment, then your behavior will naturally become balanced.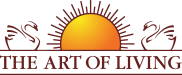 Founded in 1981 by Sri Sri Ravi Shankar,The Art of Living is an educational and humanitarian movement engaged in stress-management and service initiatives.
Read More