Question & Answers with Sri Sri Ravi Shankar

Q: Gurudev, Dear Guruji, I have never been a spiritual or a true religious person. How can I learn to let go and believe?
Sri Sri Ravi Shankar:
You don't have to label yourself- I am spiritual, religious person etc. No need for it.
Just be natural, beautiful, good human being. That's it!
If someone is not a beautiful human being and says, 'I am a spiritual person or a religious person', what is the use of that? What good he or she is for? Isn't it? The purpose of spirituality is to make you a beautiful human being, the purpose of religion is to make you a righteous person, connected to the universe, to the universal spirit. And that's what spirituality is and that's what a simple, natural, normal human being is! Got it? Right, so it is better not to label yourself.
If you think you are a believer or a non believer, then even a non believer is a wrong label. Someone who says, 'I am a non believer, I tell you, this is not true. You simply can't honestly be a non believer; there is no honesty in it. Somewhere in some corner of your consciousness, you believe something; you know something, for your consciousness is very ancient. You don't know your consciousness, it is so old, so ancient, there are so many layers, so many impressions on our mind, on our consciousness- it is such an amazing phenomenon!
Q: Gurudev, How do thoughts arise in the mind?
Sri Sri Ravi Shankar:
I leave that on you to wonder about. This is a secret, a top secret! Top secret cannot be said on the mike.
Q: Gurudev, Why do we seek God when we know God is already within us?
Sri Sri Ravi Shankar:
Because we don't know but some idea is there. There is some prior experience of God. If you don't know mango exists, you won't go searching for it. You don't go in search of something like burr-burr because burr-burr doesn't exist! You have had some experience in the past but it is not there in the present. Don't look here and there for God. Go deep within and look inside. Relax. It is there.
Q: Gurudev, What is wrong with the current leadership in the world and perhaps our visionary leadership?
Sri Sri Ravi Shankar:
I would say that the sense of belongingness is shrinking. There is a more self-centered, self-serving attitude rather than a sense of sacrifice for the cause. The vision and mission is really lacking.
Q: Gurudev, Guruji, you give so much importance to Satsang. Is there any scientific reason behind?
Sri Sri Ravi Shankar:
Satsang means the company of reality, being in touch with the truth. Satsang is not just singing. Singing some complicated songs which you don't understand is not Satsang. Music is a part of it. The second part is understanding the logic. The third part is sitting and reposing in yourself, in deep meditation, being with yourself.
Q: Gurudev, Can you please tell us something about the next transformation in the world by 2012?
Sri Sri Ravi Shankar:
Good times. People will be more spiritual, more kind, less greedy, less hateful, and more understanding. All is good. All is real good.
Q: Gurudev, Guruji many people don't donate eyes thinking that they will be born blind in next life. Can you clarify?
Sri Sri Ravi Shankar:
It is not true that if you donate eyes in this life, you will be born blind in next life.
Q: Gurudev, In Sanskrit, each word has the meaning hidden in itself. So what is the meaning of Akshar?
Sri Sri Ravi Shankar:
Akshar means something that cannot be destroyed. Rice is also called Akshat because it cannot be destroyed. You eat rice and it transforms into the life energy and that leads to jeev (being) which again leads to life energy. It is always there in the body. That is why even a grain of rice is not destroyed.
In physics it is said that an atom can never be destroyed. Our ancestors brought this truth to light millions of years ago. Then they said that not even a grain is destroyed. It may lose its form but is never destroyed. Shar means destruction. Akshar means that which cannot be destroyed. Like a seed we sow is never destroyed, it takes different forms and exists in space. Its vibrations are never destroyed.
Q: Gurudev, You say that there is no difference between you and me, then why do I feel sorrow?
Sri Sri Ravi Shankar:
The sorrow is there because you have not fully realized this. Your heart and mind have not accepted this deep inside. As soon as you accept, the sorrow disappears.
Q: Gurudev, Please, tell us how to prevent pollution.
Sri Sri Ravi Shankar:
: We have to plant more trees and care for the nature. Drive less, more car pools, etc.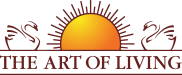 Founded in 1981 by Sri Sri Ravi Shankar,The Art of Living is an educational and humanitarian movement engaged in stress-management and service initiatives.
Read More