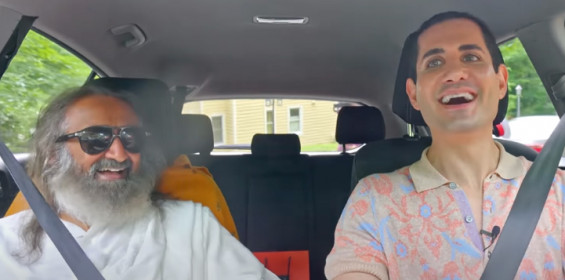 Spirituality
In an interview with Modern Nirvana's Frank Elaridi, here are some of Gurudev's responses to questions about peacekeeping...
Spirituality
Bangalore, India, Art of Living Ashram at 21km South Kanakapura Road, 1991.  With the warm weather, it was comfortable...
Spirituality
In this episode of The Playbook podcast, "Managing Energy, Fear, and Personal Habits," David Meltzer speaks with...
Spirituality
By Phillip Miner | Posted: May 02, 2018 We all make mistakes. Errors are a part of life; there's a reason why a...
Spirituality
If you haven't heard of a World Culture Festival yet, you are about to know about the biggest spiritual gathering...
Spirituality
By Jori Hamilton | Posted: February 10, 2020 We've got a question for you: when was the last time you felt happy?...
Guided Meditation
It can be hard to meditate on your own, if you haven't learned a technique or having someone guide you. Gurudev Sri Sri Ravi Shankar, founder of the Art of Living, is an expert at leading people into meditation in an effortless manner, and has done so for millions of people worldwide.
Experience the benefits of meditation starting today with these free online guided meditations >>
Spirituality
By Elizabeth Herman | Posted:  February 03, 2020 As Gurudev Sri Sri Ravi Shankar said in a recent talk about the...
Spirituality
By Dipti Goyal | Posted: August 20, 2019 "Happiness is not something ready-made. It comes from your own actions."...