Problems
Search results
This is because the problem is created by human beings.
The source of the problems is one, i.e., humans, then the solution can also be one, isn't it? Spirituality is dealing with that basic aspect of human beings. If the foundation is not right, then ...

You should do it lightly. When you try to resolve the problems of others, see that you do not get muddled up. Do it with this little sense of detachment, then it works. ...

Bad things happen because of two reasons. One is past deeds, and second is current foolishness.
If you are being good and foolish, then bad things can happen to you. You can't say, 'I am so good but why did my finger get burnt?' If you put your finger ...

The first solution to the problem is not to have the problem at all. (Laughter) The second thing is to willingly accept the problem and see it as a challenge. Third, know that the problem is a boogey man, it is not real. Fourth, know that nature has provi ...

Whenever there is a problem we either deny it saying there is no problem or sit to solve the problem and make it a big issue. Neither of these help. A problem does not disappear when you deny it. And it does not get solved when you sit to solve it. The 5 ...

If your are unhappy you better check if one or all of these are lacking: Tapa (penance), Vairagya (dispassion), Sharanagati (surrender). Tapas is agreeing with the moment, total acceptance of pleasant or unpleasant situations. Vairagya means I want nothin ...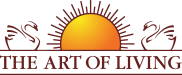 Founded in 1981 by Sri Sri Ravi Shankar,The Art of Living is an educational and humanitarian movement engaged in stress-management and service initiatives.
Read More