Bringing Happiness & Making Life a Celebration
A Vision for a Stress-Free, Violence-Free World
152 countries • 33 years of service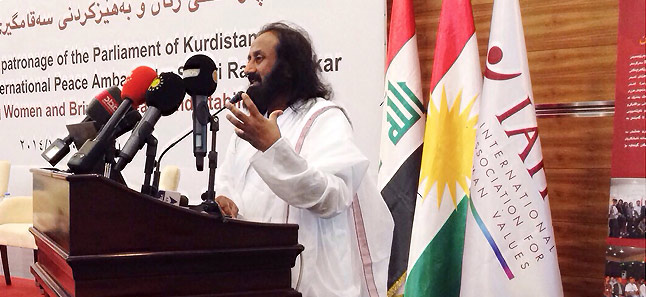 "We want to send a clear message to those who think that violence is the way." ~ Sri Sri at the Peace Conference, Erbil, Nov. 20
Gain more confidence to take on situations, more energy to engage with other people and awareness to remember the little things that add more to ourselves.
Explore your potential
Experience freedom and explore the innermost depth of your being. Discover the mystical secrets of life and creation.
Know more
Turn the storms of emotions at home into waves of peace, love and happiness. Anytime. Every time!
Learn how
The Art of Living Happiness Program
"The secret lies in our own breath. Through breathing exercises, certain breathing techniques and some practice of meditation, we can rekindle positive vibrations within and around us."
-- Sri Sri Ravi Shankar, Founder of The Art of Living 
Program Helpline : +91 7676440044
Sudarshan Kriya®: A powerful breathing technique to discover your unlimited power and freedom - not as a concept, but as a direct experience.
Connect to your depth through the secrets of your breath.
Awareness and Smiles

"The Art of Living Part 1 program gave me awareness about who I am, what I feel and what I want. Sudarshan Kriya gave me lightness and I started to wear a smile daily."

~ Karolina, Writer, Lithuania

Calm & Creative

As a freelance photographer, being creative, you have to be clear of any inhibitions. Only a settled frame of mind can be creative. Creativity dawns as a by-product of meditation and spirituality.

~ Pankaj Anand, Artist, Mumbai, India
If you have the passion for dance, but never had the chance to learn.. here is a once in a life time opportunity for you! Nritya Sadhana Embark on a...