Are you having difficulty falling asleep? Do you wake up feeling tired and groggy? Perhaps you've noticed that your ability to function effectively is diminished or that you're feeling irritable a lot of the time. You may be suffering from insomnia. Short-term or transient insomnia is quite common and usually resolves by itself. However, insomnia is considered chronic if it persists beyond a few weeks.
Insomnia, both transient and chronic, can be dealt with meditation.
There is an abundance of evidence that regular meditation can improve sleep patterns, often dramatically. Research indicates that an overly aroused sympathetic nervous system is an important causative factor in chronic insomnia. It states that practices that can reduce nervous system arousal, such as meditation, can be very effective in relieving insomnia.

Our nervous system is usually excessively aroused by several factors. They include stress, tension, overindulgence in stimulants such as tea and coffee, use of drugs, habits like going to bed late, insufficient rest, too much stimulation through TV or computer, and indulgence in dietary habits that don't suit our constitution. However, generally, insomnia results from mental and emotional stress. Meditation is particularly helpful because it directly relieves the body and mind from stress.

However, these practices are not intended as band-aid solutions for insomnia or any other problem. For insomnia treatment, we recommend undertaking self-study to identify the factors that are the cause of the problem. While you may not be able to change external situations in your life, you can definitely change your reaction to the stress factors. You can also undertake the following tips to deal with insomnia.
Inspired by Gurudev Sri Sri Ravi Shankar's wisdom talks.
Written by Chris Dale, Faculty, Advanced Meditation Program, The Art of Living.
OUR MEDITATION COURSE
Sahaj Samadhi Meditation
EFFORTLESS . ENJOYABLE . EFFECTIVE
Popular Meditation Articles
free e-course
Meditation for Beginners
Meditation Tips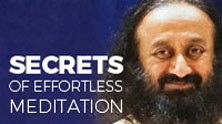 Breathing Exercises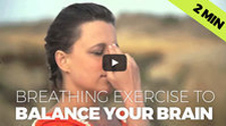 Guided Meditations